Lithuanian President: Our Duty Is To Ensure Peoples Of Ukraine, Belarus Enjoy Fruits Of Freedom And Independence
2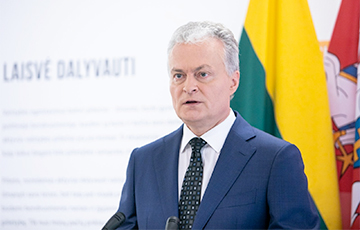 Gitanas Nausėda said that he believes in the European future of Kyiv and Minsk.
Lithuania and Poland should help the Ukrainian and Belarusian peoples "enjoy the fruits of freedom, independence and democracy," Lithuanian President Gitanas Nausėda said during his speech in the Polish parliament on May 3, naviny.by reports.
"We again see a growing military power in the East, which is trying to deny our values and threaten our way of life," the Baltic news agency BNS quotes the politician. "Our neighbors, striving to build democratic relations, continue to face gross disrespect for human rights and freedoms".
"Our duty is to make sure that the historically close peoples of Ukraine and Belarus can enjoy the fruits of freedom, independence and democracy. In the past, they belonged to the common family of European countries, and I believe that this will continue to be so in the future,"said Nausėda.
The President of Lithuania noted that in order for the peoples of the region to freely develop democracy in their countries, "a clear vision of the Eastern Partnership program is needed". According to him, "in the face of an aggressive hostile force, as the lessons of the past show, it is necessary to unite and join forces, without waiting until it is too late".
According to him, Russia "is trying to take control of Belarus", and "an important role in this process is played by the Astravets nuclear power plant," which is being built according to a Russian project and mainly at the expense of a Russian loan. Lithuania, he underlined, "will never agree with the energy sector becoming a geopolitical weapon that will turn Belarus into a hostage of the Kremlin's policy."
"Our own security and prosperity depend on our ability to create an area of peace, democracy and prosperity in our neighborhood," the Lithuanian president said.