Krystsina Tsimanouskaya's Medal Created Global Uproar At eBay Auction
6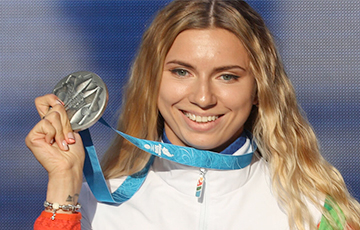 This is now the most popular item.
Krystsina Tsimanouskaya offered her silver medal for sale at an eBay auction. It is certainly not a medal from the Tokyo 2020 Olympics, but it is also a very important award: the "silver" from the Second European Games in Minsk, writes The Village Belarus.
The bidding started at $5,000, but by the end of the day the lot was worth more than $20,000.
Today, when entering the lot page, the eBay site gives an error:
"Error page. We looked everywhere. Looks like this page is missing.
Sorry, the item 265259476698 does not appear to be a valid number on eBay.com. Please go back and try again".
The Sports Solidarity Foundation explains what this means:
"Krystsina Tsimanouskaya's auction has created a worldwide uproar, and eBay has temporarily blocked the account because of a threat to its platform.
This is something we did not expect! The incredible amount of traffic to Krystsina Tsimanouskaya's page made eBay block our account temporarily.
This is definitely our most popular auction item!
They are now trying to fix the problem! We will inform you of the situation and keep you in the loop."