Campaign For Release Of Palina Sharenda-Panasiuk Launched In Czech Republic
4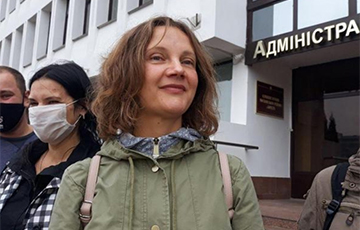 The activist of European Belarus is in inhuman conditions.
The campaign in support of the activist of the European Belarus campaign, Palina Sharenda-Panasiuk, started in the Czech Republic. The political prisoner, convicted by Lukashenka's regime for two years, is kept in the colony in Zarechchye, which is known for its inhumane conditions. Now Palina, after 40 days in solitary confinement, has been transferred to a cell-type room, where she will spend six months.
The press service of the European Belarus civil campaign reports that the famous Czech playwright and mathematician Rene Levinski initiated the campaign in support of the political prisoner.
Lenka Havlikova, chairman of the Association of Independent Theaters and director of Theater X10; former prisoner of conscience, Charter 77 signatory Petr Pospíchal (Charter 77 - a program document uniting Czechoslovak dissidents - editor); writer and translator Teresa Semotamova; poet and director of the Slovak Charter 77 Foundation Zuzana Satmari; media analyst Josef Šlerka and translator Kristina Sienok joined it.
The campaign was a reaction to the call of European Belarus to the international community to put pressure on Lukashenka's dictatorial regime for the release of Palina and all other political prisoners.
The organizers of the campaign demand the immediate release of Palina Sharenda-Panasiuk from prison and draw the attention of the Belarusian authorities, in particular, the head of the colony in Zarechchye Dzmitry Kurlovich, to his personal responsibility for respecting the rule of law as regards the confinement conditions.
The campaign for Palina's release encourages her to write letters of support to:
CF NO. 24. 247526, Proizvodnaya Street, 44, Zarechchye, Rechytsa district, Homel region, Belarus.
They also urge to send letters to the head of the prison Dzmitry Kurlovich, who is responsible for the conditions of the prison and must know that the world community is following the fate of political prisoners.
Other forms of action and expression of solidarity with Palina are also offered. A special website was created as part of the campaign, where all information can be found.