Belarusian Special Services Destroying Fence On Polish Border With Chisels, Angle Grinders, Other Tools
32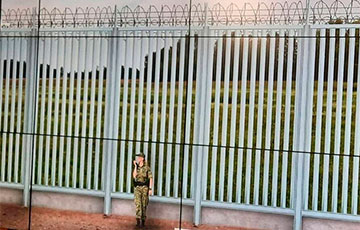 Polish border guards report new provocations with illegal migrants.
The Polish Border Guard Service says that Belarusian officers use special tools to break down the newly built fence on the border.
This was stated by a speaker of the Border Guard Inspectorate, Anna Michalska, reports PAP.
Poland has completed construction of 186 kilometres of fencing on the Polish-Belarusian border in response to last year's crisis caused by thousands of migrants, mostly from the Middle East, trying to cross the Polish border from Belarus and enter the European Union. In addition to a five-metre high wall of steel spans, electronic surveillance systems have been installed to guard a total of 202 kilometres.
"As it follows from the testimonies of the migrants detained on the Polish side, Belarusian officers not only bring the migrants under the border, but also try to help them bypass security measures," Michalska said.
According to the migrants, once they arrived at the border, they were left in the bushes nearby, while Belarusian officers used special tools to destroy the fence. They used grinders, chisels, special mittens and other tools.
"The Belarusian services let groups of two to five people through such a crossing, and allow slightly larger groups only in the swampy places," said a representative of the Border Guard Service.
According to Michalska, the total number of attempts to cross the Polish-Belarusian border illegally has recently decreased tenfold - from 800 to 80 attempts per day due to the physical barrier.