Dirk Schuebel: Democracy In Belarus Is Not Question Of 'If', It's Question Of 'When'
4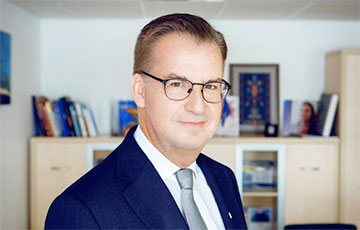 The European Union will be on the side of the Belarusian people.
It has been exactly two years since the Belarusians took to the streets of their cities to protest against the elections stolen by the Lukashenka regime. Despite the war in Ukraine being the dominant topic on the information agenda today, Belarus is not forgotten in the West.
"From the EU perspective, Lukashenka has no democratic legitimacy whatsoever. His continued complicity in Russia's war against Ukraine, moreover, makes him an accomplice to the crimes that are committed in Ukraine every day. It is noteworthy that the EU will not forget the victims of the Lukashenka regime, its past and recent crimes," the EU ambassador to Belarus, Dirk Schuebel, said. Also, in an interview with Charter97.org, he spoke about sanctions, the future of the Lukashenka regime and support for a democratic Belarus.
Here is the full text of the interview with Dirk Schuebel.
— We are talking right before the second anniversary of the Belarusian revolution. Which memories do you have associated with the events which took place in the August 2020?
— I have very vivid memories of this time like it was almost yesterday. I would say that I remember the many thousands of people that for many weeks were on the streets in Minsk.
What were my feelings at that time? My first feeling was surprise because not many people had expected such a strong reaction by the Belarusian people against the massive falsifications that the regime undertook. Second, there was appreciation for what the people did because they stood up for themselves, for their rights not to be betrayed. And my third feeling after seeing the reaction by the regime was anger about how the regime brutally knocked down the protests, put thousands of people in jail and mistreated them.
Also, I was a little bit proud of having being there in that moment, of having witnessed this unique situation in which the Belarusian people to such a degree stood up against the regime.
— Today Lukashenka regime has pushed Belarus into the war with Ukraine. Is there an understanding in the EU that the overwhelming majority of the Belarusian people are against the aggressive actions of the regime?
— Yes, we are very much aware of the situation and we are trying to separate between the regime and the people of Belarus. We fully realize that people were and remain against Belarus becoming an accomplice in Russia's unprovoked and unjustified military aggression against Ukraine. We are also aware of some surveys that have been undertaken that around 90% of the population is against Belarusian participation in the war in Ukraine. We are also every day made aware that countless Belarusians are intimidated and persecuted by the regime for standing up in favor of Ukraine and against Russia's war.
Our policy towards Belarus has been unambiguous, I would say: it is expressed in unwavering support and solidarity with the Belarusian people. Also we are implementing sanctions, targeting the regime that continues to repress the people of Belarus and that is supporting Russia's war against Ukraine.
— Lukashenka has asked Putin to upgrade Belarusian military aircrafts so they would be capable of carrying nuclear weapons. What will be the reaction of the EU if two dictators actually deploy nuclear weapons to Belarus?
— In addition to our condemnation of the involvement of the Belarusian regime in Russia's aggression against Ukraine, we also called on Belarus to refrain from such action and to abide by its international obligations including under the non-proliferation treaty. The deletion of the reference in the Belarus Constitution to the country's non-nuclear status was indeed another very worrying change, which added to unacceptable attempts to redefine the European security architecture. The presence of Russian nuclear weapons on the Belarusian territory would indeed be an additional threat to the security of Europe and would without any doubt require a strong response.
— Are there any options under development in the EU for putting pressure on the Lukashenka regime in case he sends Belarusian troops into the territory of Ukraine on the full scale?
— The EU, the G7, the UN General Assembly and NATO have deplored the involvement of the regime in Belarus in the unlawful use of force against Ukraine. We called on Belarus to abide by their international obligations, refrain from and end its complicity in Russia's war. The UN General Assembly in March demanded that the Russian Federation immediately, completely and unconditionally withdraw all of its military forces from the territory of Ukraine within its internationally recognized borders.
While we do not like to discuss hypothetical scenarios, I think it is safe to assume that any further steps in the opposite direction will be met with a strong and coordinated response.
Since the first day of Russia's invasion of Ukraine, the EU and NATO, EU member states and NATO allies have intensified their work and cooperation, demonstrating full unity and common resolve in supporting Ukraine as it defend itself and works to protect its population.
— How do you see near future Lukashenka personally? Is his fate being decided in Ukraine?
— I think it is not for me to comment on Lukashenka's future as such. However, what I would like to stress is that for the EU he lacks any democratic legitimacy. His recent complicity in Russia's war of aggression against Ukraine makes him, in addition, co-responsible for the crimes we are witnessing in Ukraine every day. Let me underline that the EU will not forget the victims of the Lukashenka regime and its past and present crimes.
As to your second question, the future of a democratic Belarus depends very much on the Ukrainian people's resolve and the ability to defend themselves and no less on the resolve of all people of honor and dignity to stand with Ukraine.
In a way, Ukrainians are not fighting for themselves only. They're fighting for their neighbors as well. And they're also fighting for the European Union.
— Do EU sanctions against the Lukashenka regime work? Which sectors of economy are affected the most by the sanctions?
— Let me first recall, perhaps, the purpose of sanctions: from our side, it is basically to indicate that certain conduct is unacceptable and cannot go unpunished. So, what means of punishment do we have? We have sanctions.
As to economic sanctions, their role is to limit the regime's ability to pursue destructive policies. Starting with the Council Conclusions of October 2020, following the election falsification and subsequent mass repression of peaceful protesters, civil society, and media by the regime in Belarus, we have imposed a number of restrictive measures in line with our gradual approach.
By now, six packages of restrictions have been adopted, also in response to the landing on a false pretext of the Ryanair flight in May 2021 (we have just seen a very clear ICAO report on this), also the instrumentalization of vulnerable migrants from 2021 and onwards, and more recently, over the Belarusian regime's complicity in Russia's war against Ukraine.
As the stronger of the measures are coming into force, and the more measures we have, we begin to see an effect of those measures. But let me also tell you that restrictive measures as such are not a silver bullet or an instrument of anyone's first choice. But they do make a difference if they are applied consistently in a calibrated and targeted manner. Let me also recall that sanctions are just one of our political instruments. They do not appear in isolation. They're accompanied by other policy choices, such as the support for the people Belarus. So, it's a mix of measures.
Then we have also the impact of Belarus and Russia's own actions resulting in capital, including human capital, and corporate flight (people are leaving), in the reputational damage, in the loss of trade connections, transportatio and logistical chains. They do add to the actual impact of the sanctions.
What we intend to do is if the situation does not improve and our demands are not responded to? We will continue our gradual approach to sanctions. But let me also say that sanctions are reversible and when adopting them, the EU always says what are the conditions under which they can be reversed. Unfortunately, we have not seen any positive reactions so far from the regime.
Which areas have been particularly affected so far? I think we see in the potash sector, means are searched for how to export potash to other countries. So, I think, there is an effect. And, I think, also the banking sector has seen an effect and there are others as well, but I would not like to single out more at this moment. I think we will hopefully soon see a concrete assessment of how these sanctions are working.
— Back in June, The Wall Street Journal reported that the US was considering at the time the possibility of suspending sanctions against Belarusian potash fertilizers. What is the EU position of this issue?
— The subject of potash fertilizers is often linked to that of grain export, which is a big issue in Ukraine at this moment in time, as you can see in the news every day. Let me say that in July the EU welcomed the agreements, which were signed by Ukraine, Russia, Turkey, and the UN to unblock the Black sea for Ukrainian export of grain. Russia's unprovoked and unjustified military aggression against Ukraine is having a devastating global impact — we are aware of that. Russia is deliberately destroying Ukraine's agricultural and transport infrastructure and equipment, causing shortages and creating worldwide food supply chain problems through the blocking of Ukraine's ports and looting of Ukraine's grain, which endangers food security for millions of people across the world. These agreements that I mentioned offer an opportunity to start reversing that negative trend.
As for sanctions against Belarusian potash fertilizer exports and all other restrictive measures against Belarus and Russia, as I mentioned before, they can be reversed once the reasons for their adoption cease to exist. In the meantime, restrictive measures can be and they are adjusted if there is a need, and clarified, for instance, to strengthen the legal certainty for operators and enforcement by EU member states. But we have, as I said, for the time being, no intention to change anything if we don't see any reaction by the Belarusian side.
— There are many reports which say that it is now much more harder for Belarusian people than before to obtain a visa to Europe as a tourist. What is the EU's visa policy towards Belarus?
— The EU visa policy is a complicated setup. First of all, we have a common visa policy that regulates and facilitates the entry of legal visitors from third countries into the European Union. This policy is applicable to Belarusians as well. Embassies and consulates of our EU member states are the key actors which are implementing this visa policy on the ground. That is the theory.
Unfortunately, over the past two years, EU member states' consular capacities in Belarus have become increasingly limited. This is due to the Belarusian authorities' decisions to drastically narrow the existing diplomatic channels. To give you one example, Lithuania and Latvia have basically no diplomatic missions anymore. So, who should issue visas to those two countries which had been very active issuers of visas? So, those who are there have had to prioritize some categories of applicants. Russia's war of aggression against Ukraine has made the situation even more complicated with the participation of the regime.
But let me underline that the visa policy towards ordinary Belarusian citizens remains unchanged and the importance of people to people contacts, as we have also mentioned in the Council Conclusions of October 2020, still holds true and is valid. We, the EU, will continue to call on EU member states to show maximum flexibility with regard to existing visa rules and practices in the frame of the possibilities of each member state, in particular with regard to those Belarusians who have been fleeing persecution at home — they deserve our support. Let me mention that we still have the visa facilitation agreement in place between the EU and Belarus, and we hope that this can be intensified again in the future.
I would also like to say that the Council in 2020 mandated that Belarusians would continue to be offered opportunities to participate in European exchange programs and Eastern Partnership initiatives. We are also committed to supporting the European Humanities University in Vilnius, a Belarusian university in exile, as well as offer additional scholarships and mobility schemes to Belarusians to whom, obviously, visas will be offered as well. The recent example is the pilot program of granting scholarships to young Belarusians to study in some EU countries within these so-called EU4Belarus - SALT scholarships (https://eu4belarus.info/), support for advanced learning and training. This is an example that visas are issued to those who are participating in these programs. But, as I said, we are appealing to EU member states to do the utmost to provide visas to those who are in particular need.
— Would it be correct way to say that the doors for the Belarusians remain open but the difficulties with visas are because of the limited consular capacity which is, in turn, because of the regime?
— I think that's a fair summary. We have limited opportunities, and then let us also not forget why we have a common framework. In the end, member states decide by themselves, according to their capacities, how many visas and what visas they can issue right now. So, it is also a question that should be addressed to each member state directly. But, as I said, we are working on that so that member states do issue the maximum number of visas possible.
— What is, according to your estimate, the amount of effective support of the EU to the civil society in Belarus?
— As mandated by the Council of the European Union in October 2020, the EU recalibrated its assistance to Belarus away from the authorities to civil society. So, since August 2020, the EU made available close to EUR 65 million towards support to Belarusian civil society, independent media, and to those who suffered from post-election state violence and repression, to youth, to independent small and medium-sized enterprises as well as to the country's healthcare sector. We support civil society and journalists who carry on their work despite great risks, students and teachers who seek opportunities in academic environments free from politically motivated pressure.
— I would like to remind you about the situation with the famous Belarusian freedom fighter Mikalai Autukhovich. He's refusing to intake food and water since July 11 (At the time the article was published, the political prisoner has stopped his hunger strike — Editorial Office). Reportedly, he has lost 20 kilograms of the weight. And the reason for his protest is that he is not being given the letters from his relatives and even from his 83-years-old mother. What is your reaction to this situation?
— We are very much aware of this tragic case. I have seen reports, just now, which need to be still confirmed, that Mr Autukhovich finally started taking some liquids, following three weeks of indeed refusing all food and liquids. We have heard — but, again, this needs to be confirmed — that his demand to correspond with his family was met by the prison administration.
But in a more general terms, let me reiterate and repeat what our lead spokesperson for external affairs area said last week: that inhumane treatment, including of prisoners, is absolutely unacceptable. The authorities must meet their international human rights obligations. Due legal process is not optional, it's an obligation. We will continue therefore following Mr Autukhovich's situation very closely, but hope that what we have heard is true that a certain small improvement has occurred.
—Returning to the events the August 2020, I would like to thank you for your words of support and solidarity, in particular for your speech after the death of Alexander Taraikovsky. My impression is that people of Belarus heard and remember it. After the events of the last two years, do you see the future free Belarus in the family of the European nations?
— Thank you very much. It was the EU's position, so it has been my duty to say these words, but it also came from the heart in these difficult moments.
On a more general note, for the EU it is important to have a responsive and responsible neighbor in Belarus, and Belarus is a direct neighbor of the European Union. It is also part of the wider European community of nations. Therefore, Belarus is important for us. What I can say is that I'm sure that Belarus will have a democratic future. The question is not "if", the question is simply "when". Once Belarus is democratically governed, the people will have every opportunity to consider how best to secure a free sovereign, safe, and prosperous future for the country, a future that they most certainly deserve, and the European union will stand by the side of the people of Belarus.
— Ambassador Schuebel, thank you very much for the interview.
— Best regards to the readers of Charter 97.