MEPs: Lukashenka's Defeat Is Only A Matter Of Time
8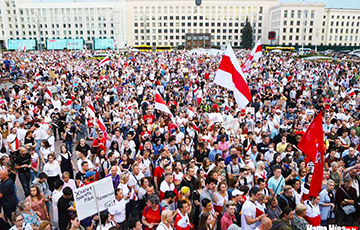 He cannot win the fight with his own people.
MEPs recorded a video in support of all those who are fighting against the Lukashenka regime on the second anniversary of the Belarusian uprising. The video was posted on the Facebook page of MEP and ex-Foreign Minister of Poland Anna Fotyga. MEPs from Lithuania Rasa Yuknevicienė, Petras Auštrevičius, MEPs from Poland Robert Biedroń and Radoslaw Sikorski and others address the Belarusians with words of support. We are including the full text of the message.
"Dear Belarusian Friends!
Brave Belarusian people raised up their hands and heads and stood up against the fake, illegitimate and brutal regime of Lukashenka.
So bravely fighting against more and more aggressive Lukashenka's regime.
Today we commemorated the second anniversary of the people's uprising in Belarus.
We did a lot, but we have to win against Putin's regime in Ukraine. Let's join that fight and when we do it, the aspiration of the Belarusian nation to become a European part of Europe that is reflected in the European Parliament that was announced also in our 4th Kalinouski Conference in Brussels will be a reality.
We must remember that the attack on Kyiv was possible because of the previously stolen elections in Belarus.
We must give the Belarusian civil society the help they need.
You stood up for equal rights in your country. The fight is not over.
Lukashenka continues to fight against his own citizens. However, as we are all aware, he cannot win this war. It's only a matter of time.
We support all Belarusians. They are freedom-loving people, especially those who are imprisoned, including Yuri Ulasau.
The European Parliament continues to stand with the people of Belarus.
We keep supporting all the people of Belarus, who are striving for freedom and democracy.
Yours and ours solidarity is unstoppable - this is the message to Lukashenka: we are unstoppable, and one day it will bring freedom and independence to Belarus.
Don't think that we have forgotten you. In fact, you continue to live in our hearts, and our solidarity is unbroken. Long live Belarus!" the message reads.