'Kupalaucy Are The True Belarusian Elite'
1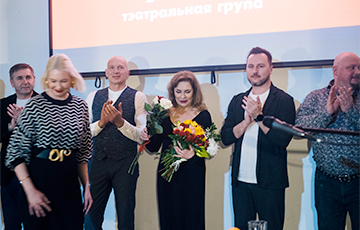 The independent acting troupe celebrated World Theatre Day in Warsaw.
Yesterday, March 27, the stage actors of the Kupala Theater celebrated World Theatre Day at the Warsaw Museum of Free Belarus.
The troupe of the Janka Kupala National Theatre supported the people's protests in 2020. Then 60 of Kupalaucy wrote letters of resignation. Since then, the actors have been performing at European venues.
In the Museum of Free Belarus, People's Artist Zoya Belakhvostik presented a one-man performance about the history of her family since 1920. The performance tells, among other things, about the relatives of the actress who were repressed in Soviet times: her famous grandfather Hleb Hlebau, and her father and actress Valiantsin Belakhvostik. Family Belakhvostik is the oldest acting dynasty in Belarus.
Then the former director of the Kupala Theater Pavel Latushka and the Editor-in-Chief of the website Charter97.org Natallia Radzina gave speeches there.
Pavel Latushka spoke about the events that happened to the actors in 2020, when the actors protested against violence and election fraud.
Then Natallia Radzina congratulated the Kupalaucy team:
It's really sad that we are not in Belarus today. However, it is good that we are in Warsaw and free. I would like to say a rather obvious thing, but you, Kupalaucy, are the true Belarusian elite. Therefore, it is time for you to reconsider what is happening in our Belarus today. To reconsider the fate of the Belarusian political prisoners, the changes that are taking place in the minds of Belarusians. It seems to me that there is a lot of work and it is up to you to decide, because you are very talented and honest because in 2020 you made a very correct choice and took the side of the people. I wish courage to all of you and faith that all this will end and we will return home to free Belarus very soon.