Russian Volunteers Destroyed Grad Missile Systems Marching Across Belgorod Region In Convoy
13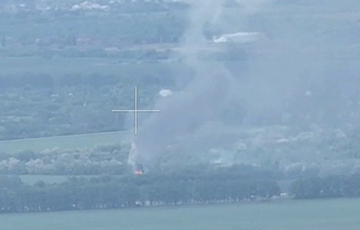 Fighting in the vicinity of Shebekino continues.
Fighters of the Freedom of Russia Legion destroyed the enemy column of the Grad MLRS (BM-21) near Shebekino in the Belgorod region.
Russian volunteers from the Freedom of Russia Legion reported.
"We and our brothers from the Russian Volunteer Corps continue to demilitarize Putin's army" the message reads.
As the Charter97.org website reported, this morning the fighters of the Russian Volunteer Corps and the Freedom of Russia Legion began the second phase of the military operation on the territory of the Russian Federation.
Russian volunteers have broken through the border of the Russian Federation and are moving towards the settlement of Shebekino, Belgorod Region.
Grad's volleys destroyed the leadership of the Russian military in the building of the Ministry of Internal Affairs in Shebekino. In addition, during the fighting, an enemy truck with ammunition and the Tulpan self-propelled mortar were targeted.