Politico: Ukrainian Mechanized Brigades Redoubled Their Assaults
11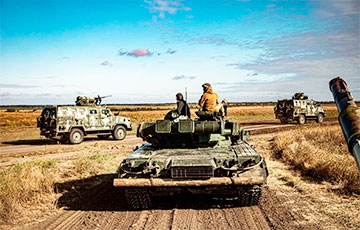 The Russian line of defense between Rabotin and Verbov was broken through.
The Ukrainian counter-offensive is gaining momentum, but the Russians are showing stiff resistance.
According to Politico, Ukrainian mechanized brigades are redoubling their assaults around Bakhmut in the Donetsk region and neighboring Zaporizhzhia, but "appear to be facing forceful Russian resistance".
As their counteroffensive ramps up, the Ukrainians say they've made advances of up to 1,600 meters around Bakhmut. And Russian military bloggers with close ties to the country's defense ministry have acknowledged the Ukrainians have had some success there. Yevgeny Prigozhin, the boss of the Wagner paramilitary group, bemoaned earlier this week a fallback of Russian troops in Bakhmut, dubbing it a "disgrace."
But in Zaporizhzhia, the picture appears much more mixed. "Ukrainian forces conducted a limited, but still significant attack in the western Zaporizhzhia region on the night of June 7 to 8," the Institute for the Study of War reported in its daily campaign update. "Russian forces apparently defended against this attack in a doctrinally sound manner and had reportedly regained their initial positions as of June 8."
The Washington-based think tank said geolocated footage suggested that Ukrainian forces likely broke through a first line of defense between Robotyne and Verbove, about 15 kilometers southeast of Orikhiv, a strategic town. But the Russians appear to have pushed Ukrainian forces back, to restore their original positions. There is also fierce fighting reported around Velyka Novosilka, near the border of Zaporizhzhia and Donetsk regions.
Politico notes that Ukrainian officials are maintaining largely an operational silence on the counteroffensive — as they said they would ahead of the campaign to reclaim Russian-occupied territory. In a YouTube post Friday, the Ukrainian army said that "the adversary remains on the defensive."
While not formally acknowledging the counteroffensive is in full swing, President Volodymyr Zelensky said in his nightly television address Thursday that he is "in constant communication with our military."
He added: "Donetsk region — very tough battles. But there is a result, and I am grateful to everyone who ensures this result! Bakhmut — well done. Step by step."
Meanwhile, U.S. President Joe Biden said he was "very optimistic" about how events are "evolving."
Russians also report heavy fighting at the front. The day before, pro-Kremlin social media platforms posted videos of a long Ukrainian armored column coming under heavy attack Thursday. Russian Defense Minister Sergei Shoigu briefed President Vladimir Putin on the battles, including a large assault by Ukraine's 47th mechanized brigade, which he claimed was repelled in an hours-long battle in Zaporizhzhia.
Alongside with that, the publication notes that Russian forces have prepared several defensive lines in Zaporizhzhia, including minefields, trenches, and "dragon-teeth" tank traps.
Russian defenses could cause major problems for a Ukraine counteroffensive. "Engineering has proven to be one of the strongest branches of the Russian military," the report said.
The publication reminds that Zaporizhzhia was seen by seasoned military observers ahead of the counteroffensive as the most likely main target of the Ukrainians, as a successful counterattack would provide the biggest potential payoff — allowing Kyiv's forces to push toward Berdiansk, Melitopol and Tokmak, with the aim of severing the so-called land bridge connecting mainland Russia and the southern Ukrainian territories that Russia occupies via the Crimean isthmus.
"But Zelensky a week ago prepared Ukrainians for a tough, long slog ahead and sought to temper expectations, saying the battlefield struggle would take some time and come at a heavy cost," the publication summarized.