Russian Troops Lost Control Over Shebekino
18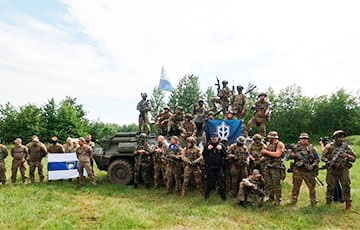 Volunteers continue the offensive in the Belgorod region.
The Russian army does not control the town of Shebekino in the Belgorod region of the Russian Federation. The fighters of the Russian Volunteer Corps (RVC) and the Freedom of Russia Legion are conducting their operation in the vicinity of the town.
The Chief of Staff of the Russian Volunteer Corps with the call sign "Fortuna" announced it on the air of a telethon.
"Today, Shebekino is not controlled by them (Russian troops - ed.). A lot of people are leaving," said the RVC fighter.
According to him, the Russian Federation is deploying additional armoured vehicles to the Belgorod region, using aviation and generally increasing its attacks.
However, this is the task of Russian volunteers - to distract the reserves of the Russian army from the front in Ukraine.
The Chief of Staff confirmed the information that marauders were operating in Shebekino. The volunteers declared their readiness to help residents of the settlements of the Belgorod region, where clashes are now taking place and to evacuate them to the territory of Ukraine. So, people are to contact the RVC or the Freedom of Russia Legion directly. They have such an opportunity now.
The RVC fighter added that villages and villages near Shebekin are now being shelled by Russian artillery and aircraft.
The fighters of the Freedom of Russia Legion, in turn, published two videos about what is happening in Shebekino. The Russian volunteers noted that "the weather in Shebekino is hot" and they "continue to destroy the enemy" near the city.
As the website Charter97.org reported, the fighters of the RVC and the Freedom of Russia Legion began the second phase of the military operation on the territory of the Russian Federation.
Russian volunteers have broken through the border of the Russian Federation and are moving towards the settlement of Shebekino, Belgorod Region.
The RVC soldiers destroyed the leadership of the Russian military in the Interior Ministry building in Shebekino with the Grads systems. In addition, during the fighting, an enemy truck with ammunition and the Tyulpan self-propelled mortar were damaged. Also, Russian volunteers destroyed a cluster of enemy equipment in the village of Novaya Tavolzhanka, near the town of Shebekino.
Later, information appeared that Russian volunteers entered the suburbs of Shebekino.