Israeli Media: National Library Of Belarus Headed By Anti-Semite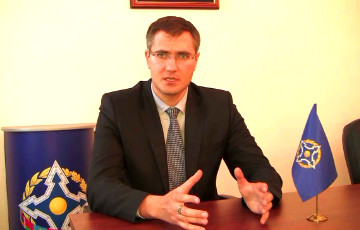 Hihin denies the Holocaust and insults Jews.
The appointment of Lukashenka propagandist Vadzim Hihin to the post of the head of the National Library of the Republic of Belarus caused a resonance in Israel.
It turned out that Vadzim Hihin was the subject of a report on anti-Semitism by the Israeli Ministry of Diaspora Affairs.
"The decision of the Belarusian authorities to appoint an anti-Semite and Holocaust denier to such an important position looks extremely strange and incomprehensible," 11KAN TV channel noted in its evening broadcast on June 8.
Vadzim Hihin is known not only as a "scientist and popularizer of science," but also as a creator of TV programs and films," writes the website of "Vesti. Israel in Russian". In 2010, he fell under the sanctions of the European Union, where he was called "one of the most influential propagandists of Belarus," who supported and justified the repression of civil society and democratic opposition. According to 11KAN TV channel, he was also mentioned in the reports on anti-Semitism by the Israeli Ministry in charge of the Diaspora. In particular, he was called "one of the most consistent and active Holocaust deniers in Belarus".
After the Russian invasion of Ukraine, Vadzim Hihin became a regular guest on pro-Kremlin propaganda channels. On every occasion he reminds about the Jewish roots of Volodymyr Zelenski, insinuating that he has "sold out to Western patrons".
Speaking of the Belarusian opposition, Hihin adds that there are many Jews in its ranks. According to the new head of the National Library, having " made a mess", these people fled to Israel, where they have "property and relatives".