Political Prisoner Ales Pushkin Died Tonight
204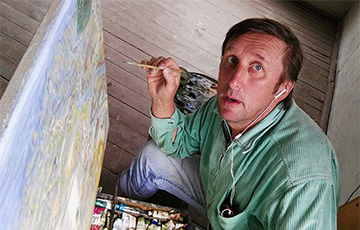 The Lukashenka regime is guilty of yet another death.
Political prisoner artist Ales Pushkin died in intensive care. His wife Yanina Demukh told about the tragedy.
"Tonight, Ales Pushkin died in intensive care under unclear circumstances," she wrote on Facebook.
Ales Pushkin was sentenced to 5 years in a high security prison for a series of portraits of participants in the Belarusian anti-Soviet resistance.
Ales cut his stomach as a protest at one of the "trials" against him.
Recently, the Belarusian artist was serving his sentence in the Hrodna prison.
This is not the first death of Belarusian political prisoners. On May 21, 2021, political prisoner Vitold Ashurok died in the Shklou prison camp.
On January 5, 2022, political prisoner Dzmitry Dudoit committed suicide in Magiliou.
These are the deaths that the media knows about. There may be many more in fact.
What is Ales Pushkin known for?
The Belarusian artist was known for his performances. On March 25, 1989, the artist walked along Independence Avenue. Posters with a reminder of the BDR proclaimed on this day exactly 71 years ago hung on his back and on his chest, and about a hundred people followed Ales Pushkin with a paper stork and 71 white balloons.
Ales Pushkin held his most famous performance "Pus for the President" in July 1999 on the fifth anniversary of Aliaksandr Lukashenka's rule. In his farm in Bobr, the artist loaded an old wheelbarrow with manure, placed on top a poster "ALIKSANDR LUKASHENKA WITH PEOPLE'', a sign "FOR FIVE-YEAR WORK", a thousand denominated Belarusian rubles, handcuffs and a constitution amended in 1996, expanding the powers of the president. He hid it with a plastic cover headed to the center of Minsk by minivan. The artist told the driver that he was taking scenery to the Yanka Kupala Theater, which is located next to the Lukashenka's administration buildings.
When he drove the wheelbarrow to the main entrance of the administration building, a policeman ran out of the building. "What are you doing?!" the police officer asked. Then the performer overturned the wheelbarrow onto the pavement, put a portrait of Lukashenka on top and pierced it with a pitchfork.
Ales Pushkin participated in the restoration of historical buildings and painted churches from his student days. His most famous work was the painting of the new St Nicholas the Wonderworker Church in Bobr. The artist worked on it in 1996-1997. Ales Pushkin wrote that this was "the most significant, monumental painting of all his life". On the Last Judgment fresco, Pushkin depicted Aliaksandr Lukashenka and Metropolitan Filaret among sinners, surrounded by riot police officers.