Hysterical Outburst Will Be Lukashenka's Reaction To This Step
15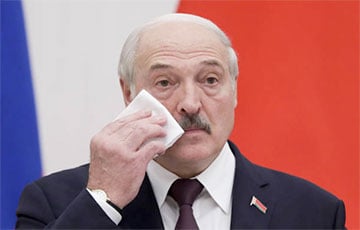 The Belarusian dictator needs to act proactively against the Belarusian dictator.
Charter97.org Editor-in-Chief Natallia Radzina gave a big interview on the YouTube channel of the Ukrainian leading news agency UNIAN. She spoke about a possible scenario for the liberation of Belarus, an arrest warrant for Lukashenka, as well as what the West's response to the provocations of the Russian and Belarusian dictators should be:
– Part of the Russian army is still located in Belarus. The military "exercises", which began on April 29, 2022, have been ongoing for 74 weeks. Of course, the number of Russian troops is no longer what it was before when thousands of mobilized troops arrived in Belarus to train. But they are still near the border with Ukraine at the Ziabrouka airbase in the Homel region.
Threats, sabotage, as well as the resumption of missile attacks from the territory of Belarus against Ukraine are possible. The threat from Belarus, as long as it is ruled by dictator Lukashenka, will always be there for both Ukraine and neighbouring EU countries.
In the case of nuclear weapons in Belarus, it is important to be proactive, the Editor-in-Chief of Charter97.org is sure:
– It looks like blackmail so far, but I would not rule out any scenarios, understanding what kind of people Putin and Lukashenka are, who are crazy in their plans. Any actions on their part are possible. Therefore, it is very important to be proactive today. Do not wait for the situation to worsen, including with nuclear missiles, but apply much tougher sanctions and measures against the two dictatorships.
Lukashenka is afraid not only of the Kastus Kalinouski Regiment but also of his military. Will the Belarusian army support the liberation campaign by the Belarusian volunteers?
The Editor-in-chief of Charter97.org believes that this is a very real scenario in war conditions, and it really terrifies Lukashenka:
– In his speeches, he constantly mentions certain "threats" emanating from the territory of Ukraine. First of all, he, of course, talks about the Belarusian volunteers who are fighting on the side of Ukraine today. If we consider not only Kalinouski's Regiment but all the Belarusians who are fighting today as part of the Armed Forces of Ukraine in different military units, then there will already be several thousand well-armed and trained fighters, whose goal is to help Ukraine and liberate Belarus. Of course, Lukashenka is terribly afraid of them.
The Belarusian journalist emphasized that if the civilized world really wants to put pressure on the Belarusian and Russian regimes, then it is necessary to apply even more serious and real economic sanctions:
– The problem with the sanctions that have been introduced against Russia and Belarus is that they cost enormously through third countries: Kazakhstan, Uzbekistan, Kyrgyzstan, Georgia, Turkey, Armenia and the United Arab Emirates.
Today it is more important to talk about the need for secondary sanctions against states that allow the Kremlin and Lukashenka regimes to bypass the sanctions already imposed. It is necessary to take these measures, and not simply ban Russian registered vehicles from entering their countries.
Natallia Radzina also spoke out about the possible issuance of an International Criminal Court arrest warrant for Lukashenka:
"An arrest is possible, we need to work on it, it needs to be done, because Lukashenka is responsible, along with Putin, for waging a war against Ukraine. It was from the territory of Belarus that Russian troops entered the Kyiv region on February 24, 2022, and it was from the territory of Belarus that rocket attacks on Ukrainian cities took place for almost a year.
In addition, a huge number of Russian conscripts trained at Belarusian military training grounds and then went to Ukraine to kill. Lukashenka is involved in the kidnapping of Ukrainian children who were taken from the occupied territories. He is also guilty of genocide against the Belarusian people. Lukashenka is an international and war criminal who must be held accountable.
The Belarusian journalist described how a dictator might react to an ICC warrant:
– Lukashenka will go hysterical. Although he is illegitimate and not recognized by the West, he may have delusions, saying that now he has nuclear missiles and the Wagner mercenaries. Maybe someone will want to talk to him. When an arrest warrant is issued, it will become completely clear to him that this is the end.
In the future, the order could become the end of the Lukashenka regime. This will inspire the people, and influence the functionaries and the security services. It will become obvious to everyone (even the most dull) that he is an international criminal with no future.
What could be the reaction to threats from Russia and Belarus? The Editor-in-Chief of Charter97.org believes that NATO should show more courage and determination:
– First of all, it is necessary to provide greater support to Ukraine. Timely and promptly provide all the necessary weapons to the Ukrainian army.
It is also necessary to strictly punish the dictators for each and every case of provocations that are committed from the territories of their countries against NATO member states.
Regarding Belarus, there is a great opportunity to stop trade and stop the transit of goods through the country. The situation can change in a very short time.
What caused Putin's strange behavior? Could Putin have doubles? Natallia Radzina does not exclude the possibility that Putin no longer exists:
– They say that Putin has more than one double. Indeed, he looks different at events. His appearance differs as well as his voice timbre and behavior. Putin may no longer exist as an individual, but there is the criminal Kremlin regime that must be destroyed.
If we don't talk about a military path and a parade on Red Square in Moscow (which would, of course, be an excellent scenario), it can be destroyed by tough and real sanctions protected from bypassing and reliably implemented and which strangle these dictatorships. And, of course, comprehensive and widespread assistance to Ukraine.