Lord Bell has officially become image-maker of Belarusian dictatorship
33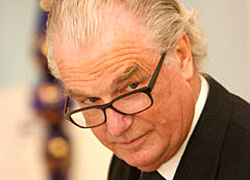 PR-manager, the head of Chime Communications board of directors Timothy Bell, has concluded a contract with Belarusian government to improve the image of the country in the international arena. The contract was signed "in the end of the last week". Lord Bell refused to speak about the exact sum of the contract and its term of implementation.
PR-manager has informed that he will work at the image of Belarus as a country, and not at the Belarusian president's image, as some media informed earlier. He noted however that a president is an undeniable part of the county and its image.
Earlier Lord Bell said that the contract includes carrying out two campaigns, an informational and a marketing one. The aim of the informational one is "to get more factual message about Belarus across as opposed to the image created by world media". The marketing campaign, as said by him, is to increase investment attractiveness of the country.
As we have informed, on March 13 Lord Bell met with Alyaksandr Lukashenka. According to official reports, it was a private business visit. After the meeting with the Belarusian ruler Lord Bell told to journalists that his company works in many countries of the world "improving image". The PR-manager believes that there are many "two-faced and hypocritical comments about Belarus" at informational web-resources. A serious work is to be done to change that, he said. The most important thing, Mr. Bell believes, is to make information about the country just, and true to reality.
Later Timothy Bell said in an interview to foreign media that he and his company would earn millions of dollars over improving of Lukashenka's image of several years.
It should be noted that with the beginning of the British lord's cooperation with the regime of Belarus political repressions, crackdown on opposition and disbanding of peaceful rallies intensified in the country. The cruel crackdown on the peaceful protest on March 25 took place two weeks after the first meeting of Lukashenka and Bell.
It is rather strange to hear statements of Lord Bell about his intention to work at the image of Belarus as a country, not at Lukashenka's image. It's interesting to know, how would he improve the image of Germany under Hitler?