George Bush had a meeting with Alyaksandr Kazulin during UN session in New York (Photo)
9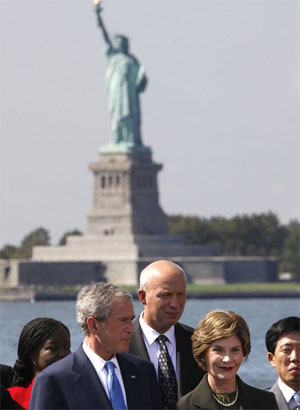 President of the United States George Bush had a meeting with former Belarusian political prisoner Alyaksandr Kazulin in New York, where a session of the UN General Assemble has begun. On September 23, the US President met with famous human rights activists and strugglers for freedom from different countries of the world.
The press service of the white House reports that the US President and his wife Laura Bush and US Secretary Condoleezza Rice had lunch with oppositionists in New York.
Besides Alyaksandr Kazulin, one of the most famous critics of the Kremlin, leader of the United Civil Front, world chess champion Garry Kasparov; Myanmar monk U Kovida; former Soviet political prisoner, Israeli politician Natan Sharansky; Cuban journalist Omar Pernet Hernandez; Lodi Gyari, special envoy of the Dalai Lama were invited for the lunch. Founder of the outlawed China Democracy Party Xu Wenli; Vytautas Landsbergis, a member of the European Parliament from Lithuania;; Ausama Monajed for the Movement for Justice and Development in Syria; and Sierra Leone Foreign Minister Zainab Hawa Bangura were also present at the lunch.
"Laura and I and Secretary Rice and members of my administration have just had a wonderful lunch with democracy leaders, human rights activists, courageous men and women who have stood strong for freedom. I assured them that this government, my government, believes in the universality of freedom," the White House press service spread a shorthand report of Bush's speech after the lunch.
According to the US President, oppositionists from the foreign countries, he met with, were "on the front lines of securing liberty".
"And so we want to thank you very much for your courage. We thank you for your set of beliefs that remain strong," Bush said.
Laura Bush emphasised in her speech she was impressed by what she had heard from the participants of the meeting.
"I've been inspired by the stories that I've heard from everyone here. Some people that are here have already seen the results of their democracy, their actions for democracy, and are now -- live in countries where democracy is the rule of law in those countries. And so we feel encouraged by their stories," the US First Lady said.
Alyaksandr Kazulin thanked the American people, President Bush and Secretary of State Condoleezza Rice for help in his release and for "unprecedented diplomatic steps for saving the life of a person".
"I felt that Mr Bush and Ms Rice are really interested in the problem of Belarus. Moreover, I realised that the future administration of the White House will keep a close eye on the situation in Belarus. It was noted at the meeting that fundamental human values, human rights and freedom are the main thing in the position of the United States. Mr Bush and other US officials said waive the principles," Alyaksandr Kazulin noted in an interview to Radio Svaboda after his meeting with the US president.
It should be reminded that a considerable part of his speech at the session of the General Assembly George Bush dedicated to peoples' aspiration for freedom. According to him, "the governments, who respect the rights of their peoples, respect the rights of the neighbouring peoples. Members of the General Assembly should condemn tyranny as strong as they condemn terrorist. We see that people make their choice- they demand freedom."