Stanislau Shushkevich: "Europe will make a big mistake if it invites Lukashenka to Prague"
16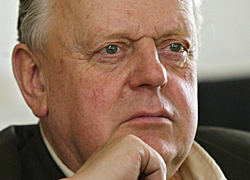 Former head of the Supreme Council of Belarus Stanislau Shushkevich says all that the authorities were telling about liberalization was lies.
As former head of Supreme Council of Belarus told in an interview to Radio Racyja, Europe would make a big mistake if it invited Alyaksandr Lukashenka for EU summit in Prague on May 7.
– How can a decision by the European Union on sanctions reprieve for Belarus be estimated?
– I don't see that these sanctions are effective, it was thought up by Europe. In my view, they have made sure the sanctions were ineffective and they have frozen the situation for 9 months. I understand why they are ineffective: many of those, who banned from entering Europe, send there relatives, children, who study in prestigious universities. American sanctions are different, they were targeted, affect those, whose behaviour was unsatisfactory. These sanctions were effective. To my mind, political prisoners were released due to US sanctions, but Europe imposed sanctions, and then lifted them.
– How can the current situation in Belarus, when much is spoken about democratization and liberalization, be evaluated?
– Talks about liberalization, about improving of the situation with the mass media are fairy tails, lies. I'll give an example: now we can buy "Narodnaya Volya" and "Nasha Niva" newspapers in news-stalls, but see at their circulation. Circulations of "NN" and "NV" all together are 24,000, but circulation of "Sovetskaya Belorussia" is 500,000. For each copy of "NN" or "NV" there are 25 copies of "Sovetskaya Belorussia", and taking into account the number of publications –100. It is 1 per cent of improving, but the situation hasn't changed in the regions, where there's little information. More or less good newspapers and magazines weren't included in the state distributing system. But Europe can hardly imagine it, they just don't understand don't want to understand it is possible. They say: there are positive changes in the country. Some MEPs hove wrong information, they don't understand what's going on.
– Alyaksandr Lukashenka has recently ranted at the opposition...
– Even in a situation like this Lukashenka understands the opposition is right and that he must make an enemy out of it. Look at Lukashenka, who can say he is an intelligent person? I can't say this, so he has to use his old methods. He has to invent an enemy, it is an approach of dictators, remind Hitler who said that the inner enemies are the Jews, the military enemy is France. The inner enemy is the opposition, and it is impossible not to create an enemy. We have military enemies, too, but they are indefinite so far. We have not a single step aimed at democratic improving of the society.
– What's your attitude towards the Eastern Partnership program and invitation of Lukashenka for a summit in Prague?
– Europe will make a big mistake if it invites Lukashenka for the summit, because there are no such odious figures; Europe will beat itself because it says that it doesn't recognize election of Lukashenka. Now it says what has happened in Georgia, in the Caucasus, and that we should take it into consideration and change the policy. But the policy must be proper. It seems to me that policy will lose its proper character with sun an approach. Europe will demonstrate its helplessness that will mean governing posts there are occupied by non-professionals. When Europe holds new elections, we can hope there will be new people.
– If we return to statement by Lukashenka: "I want to work with Europe under conditions we have discussed with Solana..."
– In my view, with the experience Solana has, it was inadmissible to have made such a mistake as to come to Belarus with no conditions, because he in fact crossed 12 conditions of Europe. We weren't formulated them. They were announced by Ferrero-Waldner, and then he came with no requirements... There must be approaches, not fear of the events in Georgia. New approaches should be used, but principles mustn't be betrayed.