Hillary Clinton insists on democratic reforms in Belarus
14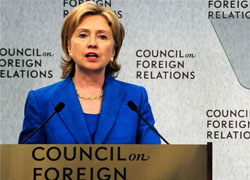 The US State Secretary Hillary Clinton has discussed the situation in Belarus with Slovenia's Foreign Minister, chairman of the Committee of ministers the Council of Europe's Samuel Zbogar.
It has been stated by Slovenian mass media in the reports about the visit of the Slovenian foreign minister to the US.
According to the STA agency, during the yesterday's meeting of Samuel Zbogar with the US State Secretary Hillary Clinton, they mostly discussed problems of the Western Balkans and also touched on the Slovenia-Croatia border dispute that led to a stalemate in Croatia's EU accession talks. However, the sides also discussed other topics of international policy, including the Belarusian situation, Radio Svaboda informs.
As Mr Zbogar told to journalists, "the State Secretary agreed with the position of Ljubljana concerning the necessity to support the democratic processes in Belarus".
In his latest public speeches Samuel Zbogar many times spoke in favour of returning the Special Guest status in the PACE to Belarus however after fulfillment of basic standards in the sphere of human rights by Minsk.
During the visit in Belarus on June 8 the head of the Ministry of Foreign Affairs of Slovenia stated that one of the conditions of the Special Guest status return to Belarus is "release of the new political prisoners".
At a press-conference in Minsk, answering the question whether the situation concerning release of political prisoners Mikalai Autukhovich, Yury Lyavonau and Uladzimir Asipenka had been discussed, Zbogar expressed hope that in the near future this problem would be solved, and "the new political prisoners would be released".
The Foreign Minister of Slovenia has also noted that one of the conditions of Belarus' return to the PACE is participation of the Belarusian opposition in the work of the Parliamentary Assembly.