Political prisoner Autukhovich left to die in prison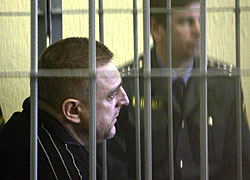 Investigation of the case of entrepreneurs Mikalai Autukhovich, Yury Lyavonau, and Uladzimir Asipenka had been extended again.
BelaPAN learnt this from Autukhovich's lawyer Pavel Sapelka. The term of investigation of the detained businessmen expired on July 3. "If they are not released, the investigation has been extended. I don't know the term: according to the law, lawyers are not informed about this," Sapelka said.
The lawyer also told the condition of health of his client is "bad". Nevertheless, Autukhovich continues his hunger strike.
Activists of the entrepreneurs' movement Autukhovich, Lyavonau, and Asipenka were detained on February 8, 2009. They are kept in pre-trial detention center #1 in Minsk. On February 18, they were charged under article 218 of the Criminal Code (intentional damage to or destruction of property of citizens). It became known on June 23 that Autukhovich is suspected of committing a crime under part 3 of article 29 of the Criminal Code of Belarus (illegal dealing with arms and ammunition).
Autukhovich is on hunger strike since April 16 demanding to send his case to court or change the measure of restraint for all suspected from custody to release on own recognizance. The prisoner lost 30 kilograms for this period.
Belarusian human rights activists consider the detainees to be political prisoners drawing attention to the fact that Autukhovich and Lyavonau were convicted before and recognized prisoners of conscience by the international community.
Representatives of civil society expressed their support of the detained entrepreneurs demanding the authorities to release them and conduct unbiased investigation of the case. The Council of Belarusian Intellectuals issued a statement demanding to release Autukhovich, "who is on the verge between life and death", immediately.
"We demand to release Mikalai Autukhovich immediately, and do all possible to save him. If this is not done, responsibility for life of Mikalai Autukhovich will be laid upon conscience of our country's leadership," the statement says.