Gaddafi's son watched Zapad-2009 military exercise in Belarus (Photo)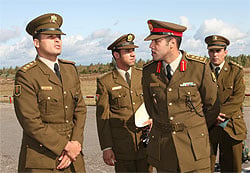 Khamis Gaddafi is a commander of a reinforced brigade of the Libyan army.
Khamis Gaddafi, son of the head of the Socialist People's Libyan Arab Jamahiriya Muammar Gaddafi, was present at Zapad-2009 military exercise as an observer, the official news agency BelTA reports.
Khamis Gaddafi knows the military science firsthand. He graduated from the military academy in Tripoli and received a bachelor's degree in military arts and science, then graduated from Frunze Military Academy in Moscow and Academy of the General Staff Academy of the Armed Forces of the Russian Federation. Khamis Gaddafi is a commander of the special reinforced brigade of the Libyan army.
We remind that Zapad-2009 drills involved more than 12000 service personnel and some hundreds of units of military equipment. 6000 troops from Russia entered Belarus, which has never happened before.
The exercise used 103 airborne devices (including 63 aircrafts and 40 helicopters), around 470 armoured fighting vehicles, 228 tanks, 234 self-propelled and towed artillery units, mortars and multiple launch rocket systems.
One of the aims of the exercises is armed conflicts liquidation. However, the democratic forces of Belarus are convinced that the exercises pose a threat to independence of Belarus.