Sannikov to "Interfax": "We are taking part in the campaign to change the regime"
31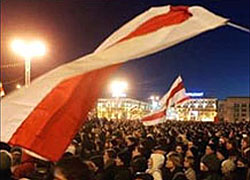 Such a pseudo-election is an insult to the Belarusian nation.
Andrei Sannikov, "European Belarus" leader, who runs in the presidential election, has given an exclusive interview to "Interfax-Zapad" agency.
- Announcing the beginning of the nation-wide civil campaign "European Belarus", you stated that "integration to the European Union is not only the only effective way for today's Belarus, but a vital necessity." Does it mean that you position yourself as a pro-Western politician?
- I am a Belarusian politician, and I believe that my country must be a member of the European Union. However, at the same time, I am speaking about strategic partnership with Russia. Without that we won't be able to develop in a normal way. What is happening in relations with Russia today is unacceptable. It is not needed by the people of Belarus. Integration to Europe means that Belarus should take the path which had been gone already by many our neighbours, and this path is clear. There is an experience (of integration to the EU of neighbouring counties – Interfax.), it's an experience of success and mistakes. It is even more interesting for us to learn the experience of mistakes, in order not to bump our heads. But that does not exclude strategic partnership with Russia based upon new principles. I hope that Russia should be interested in such a partnership as well.
- Amid the deterioration of relations between the leaders of Belarus and Russia, whether the Kremlin is searching for new political partners among presidential aspirants, to your mind?
- It's up to Russia to decide. I believe that a rather serious political signal had been sent, which shows that Lukashenka is no more Russia's partner. Yes, we are ready to be partners. We are ready to have a serious talk.
- In an interview to "Newsweek" magazine you stated that "oppositionists are carrying out consultations, however they do not need a single oppositional candidate. What is the reason of such a point of view?
- I said that a single opposition candidate is a kind of stereotype I do not understand. Today we need to step up people's activism, and it is happening now. The fact that several opposition candidates have gone into the election, helps mobilization of people. We all offer an alternative. An alternative to Lukashenka. It cannot be continued like that any more. And consolidation is to take place at a later stage, we will see whether we need one candidate or not.
- You are writing in your blog: "There is no more Lukashenka's electorate." How do you think, is cooldown in relations between Minsk and Moscow would decrease the number of those who would vote for the incumbent president, or on the contrary increase his popularity? Formally he is defending the independent policy of the country, struggling with a considerable pressure from outside.
- Nothing could be further from the truth, it's a silly thing people often repeat. The dictatorship will never be a guarantor of a state's independence. Never. It will sacrifice independence as soon as it would be beneficial for the dictator. Belarusians should not be taken for idiots. It will certainly decrease Lukashenka's support, which is already pitiful.
- How your election platform differs from platforms of other contenders for the presidential position? At whom the campaign of candidate Sannikov would be targeted?
- The campaign is orientated at the entire nation of Belarus. The things I offer resonate with the people who belong to different professional and social groups. It differs from others, as I state rather clearly that integration to Europe and strategic partnership with Russia, with participation of the important partner of Belarus, Ukraine, are not only possible, but that's what Belarus needs.
- At the start of the election campaign you made an address to the Belarusians. You wrote there: "Today it is not enough to come to the polling station and cast a vote against the incumbent regime. We all have learnt that long ago. We would be able to defend our interests only when we would be able to defend our choice." What does this statement means? Are you calling upon an open confrontation to the authorities in power?
- I am calling upon people to show their position actively, as we do not have elections. Under the law, even the law changed by Lukashenka, he has no right to run for the presidential position. Under the law Yarmoshyna does not have a right to head the CEC, as she had stated that she is a member of Lukashenka's team, that means her impartiality is excluded.
Such a pseudo-election is an insult to the Belarusian nation. So today people must determinedly push for change of power and normalization of the situation in Belarus.
- To your mind, how the votes in the upcoming election would be allocated? Could any predictions be made?
- I have already said that there are no elections in Belarus under Lukashenka and Yarmoshyna.
- And why are you taking part in it then?
- We must change this power. We should use the political campaign, which is called "the presidential election", and change this power.
- You informed that you are going to sell your flat in order to take part in the presidential campaign. Does "European Belarus" have other sources of financing?
- -I have not sold my flat yet, but I already have several buyers. Sources of financing are appearing and will appear inside Belarus.