Natallya Radzina's lawyer: She still has bleeding from ears
73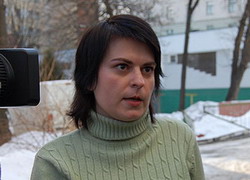 Today a lawyer has visited a journalist, editor of charter97.org Natalya Radzina (Radina) in the KGB jail. Charter97.org has been informed about that by her mother Nadzeja Radzina.
The woman could not refrain from tears. As the lawyer told her, after beating Natallya still has bleeding from ears.
We remind that a journalist Natallya Radzina is charged with organizing mass riots (Article 293 Parts 1, 2 of the Criminal Code). In this way the authorities interpret the evens of December 19, when dozens thousands of Belarusians rallied against rigged presidential election results.
During the atrocious dispersal of the protest rally Natallya Radzina was brutally battered by special task force. All workers of the website editorial office were arrested in their news office on December 20 at 4 a.m.