All-Belarusian "Step Down!" event was held in Minsk (Photo, video)
452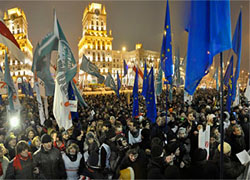 On December 6 about 3,000 persons gathered on Pryvakzalnaya Square for a meeting with the presidential candidates Andrei Sannikov and Uladzimir Nyaklyaeu.
Tents, a stage and sound-amplifying equipment were put up on the square. More and more people were arriving; musicians were performing at the stage: a rap singer Vincent, singer-songwriters Zmitser Vajtsyushkevich and Ihar Simbirovich. National white-red-white flags and flags of "European Belarus" and "Tell the Truth!" civil campaigns were fluttering.
Near the stage an old tyre was places, and it was written "It's high time to replace bald tyre!" on it. A transparent ballot box was placed on the stage. The Belarusian Central Election Commission had refused to use such ballot boxes. As a mock ballot box, a red box with the official coat-of-arms was placed beside. As participants of the meeting stated, it is not a ballot box, but a waste bin.
Before the beginning of the meeting representatives of the authorities tried to stage provocations and drown the speeches of the presidential candidates by noisy music from loudspeakers.
A minibus with loudspeakers with loud music drove right into the crowd. People were indignant, starting to push away the minibus, and they returned it to the traffic area carrying in their arms literally. Riot policemen in mufti tried to push away the people away from the car, uttering threats to one of Andrei Sannikov's campaign chief, Zmitser Bandarenka. But the car was pelted by snowballs, and one guy pulled out the cable from the loudspeaker. The minibus left.
Andrei Sannikov and Uladzimir Nyaklyaeu addressed those present.
Sannikov started his speech with the words: "It's high time to replace "the bald tyre!" As said by him, the All-Belarusian People's Congress ("Usebelaruski narodny skhod") which is held in Minsk today, must be called "All-Belarusian People's "Step down! event" ("Usebelaruski narodny sykhodz").
"It's high time to replace bald tyre! People are awakening! We see that we are many! We see that we are the majority, we are the overwhelming majority. Lukashenka has hidden, he has fear. He had not come to the televised debate to us, he did not want to listen to the voice of the nation. Belarus is facing a crucial choice. We all can change the situation. We all can do in such a way that Belarus will be free. I think that today Lukashenka started not a bad even. Its name should be corrected a little: the All-Belarusian People's Congress ("Usebelaruski narodny skhod"), must be called "All-Belarusian People's "Step down! event" ("Usebelaruski narodny sykhodz"). And we will bring this "Sykhodz" to a conclusion on December 19 after the election. Do not take part in the early vote. Cast your vote on December 19 and come to the square, we will decide the fate of the country. We are making history, and we shall win!" said "European Belarus" leader.
Uladzimir Nyaklyaeu stated that n December 9 democratic activists will meet to work out a common strategy before December 19. The candidate for presidency has also urged citizens of Belarus not to take part in the early voting, but to come to polling stations on December 19 and on the same day to come to October Square in Minsk at 8 p.m.
The candidate for presidency noted that Lukashenka had never fulfilled his pre-election promises he gave before the first, the second and the third election.
"The same will happen now," the candidate for presidency is convinced. The leader of "Tell the truth!" campaign underlined that after 16 years of Lukashenka's rule Belarus have fallen out with all neighbours: first with Europe, and then with Russia. "That is why no one in the world respects us, because of such a leadership," Uladzimir Nyaklyaeu said.
A poet Henadz Buraukin, Andrei Sannikov's wife, a journalist Iryna Khalip, and an artist Ales Marachkin addressed the meeting as well.
"Let's wake up, and let's not miss the chance. I know exactly that we shall win, as these leaders who made speeches before me, they won't betray us, they won't inform on us. I know that it won't be hard to win on December 19, as this regime is not terrifying, it is useless. It is a regime of talentless people headed by a useless person without talent. People are creating funny stories about him, telling that even in the competition of good-for-nothing persons Lukashenka would take the second place, as he is too useless to win the first place. I am sure that on December 19, when we will come to the square, this incompetent regime will collapse like a house of cards, as it has no power. It can only intimidate, as it cannot persuade, it can only tell lies, as it is not able to tell the truth; it can only imprison, as it cannot carry out a civilized conversation. My husband, Andrei Sannikov, in his televised speech, offered women to let their husbands go to the square. And I offer women to come to the rally as well. I am a woman, a mother, a daughter, and I will be on the square. All my friends, my relatives will be on the square! And what about you?" asked Iryna Khalip.
"We'll be there!" people answered. Participants of the meeting chanted: "Lukashenka, step down! Victory will be ours!" "Long live Belarus!"
A huge banner "We demand additional time on air of Belarusian TV for presidential candidates!" was unfurled on the stage. Andrei Sannikov and Uladzimir Nyaklyaeu put their signatures on it. Sannikov started to speak again, and he called upon the voters to demand live TV broadcasts for presidential candidates.
"It is our TV. Demand time on air for the presidential candidates! Belarus has wakened up, and there will be changes before the end of this year!" the candidate for presidency stated.
People on the square were chanting "Long live Belarus!", "Sannikov!", "Nyaklyaeu!" endlessly.
A 82-year-old pensioner Uladzimir Lyachkovich, who had arrived to the capital from a collective farm in Vilejka district Minsk region to take part in the meeting with the candidate for presidency, unexpectedly delivered a speech. The elderly person criticized the authorities and told about the disastrous state of pensioners in the country.
Zmitser Vajtsyuhskevich sang "Our white-red-white flag" and "I was born here!" When the line "Our dream about freedom is endless…" was sang, people started scanning "Long live Belarus!"
In the end of the meeting the appeal to come to Freedom Square on December 16, on the Day of Belarusian Solidarity, at 6.00 p.m., where the next meeting with Sannikov and Nyaklyaeu will take place.
Meanwhile a picket of the Belarusian Republican Youth Union appeared on the opposite side of the railway station. Just a few persons were taking part in the picket. They were encircled by hundreds of Minsk dwellers who were chanting "Long live Belarus!", "Motherland! Freedom! Down with ugly Lukashenka!" and "Disgrace!" It evoked delight of people passing by. They smiled, nodded and also joined chanting these words.
In 10 minutes a unit of riot policemen in mufti arrived to defend the picket in Lukashenka's support. They surrounded the Belaya Rus and the BRYU activists by a firm circle, not allowing people to come nearer. Then they started to push away the people. And the picketers for the dictator were standing silently.
Riot policemen also had to listen to many unpleasant words from the people. "They have fear, they really have fear," Minsk dwellers were saying.