US Department of State harshly criticized last dictatorship of Europe
46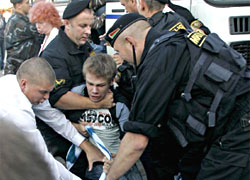 The US Department of State released the annual human rights report on March 11.
The human rights report on Belarus gives critical assessment of human rights situation in the country.
US Secretary of State Hillary Clinton stressed when presenting the reports to journalists: "These reports are an essential tool – for activists who courageously struggle to protect rights in communities around the world; for journalists and scholars who document rights violations and who report on the work of those who champion the vulnerable; and for governments, including our own, as they work to craft strategies to encourage protection of human rights of more individuals in more places."
She also noted: "We find ourselves in a moment when an increasing number of governments are imposing new and crippling restrictions on the nongovernmental organizations working to protect rights and enhance accountability."
Speaking about how the report may influence the US policy, Hillary Clinton said: "The reports released today are a record of where we are. They provide a fact base that will inform the United States' diplomatic, economic and strategic policies toward other countries in the coming year. These reports are not intended to prescribe such policies, but they provide essential data points for everyone in the United States Government working on them. I view the these reports not as ends in themselves, but as an important tool in the development of practical and effective human rights strategies by the United States Government."
The introduction to the 2009 Human Rights Report says regarding Belarus: "Following a few positive steps taken by authorities in 2008, the absence of reform during 2009 was disappointing."
We offer extracts from 2009 Belarus Human Rights Report to your attention.
"Since his election in 1994 as president, Alyaksandr Lukashenka has consolidated his power over all institutions and undermined the rule of law through authoritarian means, manipulated elections, and arbitrary decrees. Subsequent presidential elections have not been free or fair, and the September 2008 parliamentary election failed to meet international standards. While civilian authorities generally maintained effective control of the security forces, their members continued to commit numerous human rights abuses.
The government's human rights record remained very poor as government authorities continued to commit frequent serious abuses. The right of citizens to change their government was severely restricted. The government failed to account for past politically motivated disappearances. Prison conditions remained extremely poor, and reports of abuse of prisoners and detainees continued.
Arbitrary arrests, detentions, and imprisonment of citizens for political reasons, criticizing officials, or for participating in demonstrations also continued. The judiciary lacked independence, trial outcomes usually were predetermined, and many trials were conducted behind closed doors.
The government further restricted civil liberties, including freedoms of press, speech, assembly, association, and religion and continued to enforce politically motivated military conscriptions of opposition youth leaders.
The government seized published materials from civil society activists and limited the distribution of a number of independent media outlets. State security services used unreasonable force to disperse peaceful protesters.
Corruption continued to be a problem. Nongovernmental organizations (NGOs) and political parties were subjected to harassment, fines, and prosecution. Religious leaders were fined or deported for performing services, and churches continued to face persecution from authorities. Trafficking in persons remained a significant problem, although some progress was made to combat it. There was discrimination against Roma, ethnic, and sexual minorities, and against use of the Belarusian language.
Authorities harassed independent unions and dismissed their members, severely limiting the ability of the workers to form and join independent trade unions and to organize and bargain collectively."
The US Department of State mentioned the following events among the facts of human rights abuses in Belarus in 2009:
Abductions of civil campaign European Belarus activists Yauhen Afnahel, Uladzimir Lemesh, the Young Front leader Zmitser Dashkevich, and Artur Finkevich by plainclothes security forces personnel and leaving them outside Minsk:
"In December 2008 plainclothes security forces abducted Artur Finkevich, leader of the Young Belarus opposition group from the street, beat him, and left him in a forest near Rakau, approximately 25 miles west of Minsk. On November 27, opposition activist Uladzimir Lemesh was pushed into a vehicle, handcuffed, and dropped off in a forest 10 miles outside of Minsk. On December 5, security forces abducted opposition youth leader Zmitser Dashkevich near his home in Minsk, drove him to a forest approximately 40 miles north of Minsk, and forced him out of the car. The following day, security forces in Minsk abducted Yauhen Afnahel, a coordinator for the civic movement European Belarus, and dumped him outside the city";
Disruption and beating of demonstrators on Solidarity Day and breaking up a protest demonstration against the Russian-Belarusian military exercises on September 9:
"On February 14, riot police forcefully broke up a peaceful march involving approximately 100 youth members of the political opposition in central Minsk and beat Malady Front leader Zmitser Dashkevich and members Mikalai Dzemidzenka and Paval Kuryanovich. On February 16, police violently dispersed a Solidarity Day gathering in Minsk and beat a number of opposition activists who subsequently required medical treatment for injuries including cuts and bruises. In a separate incident the same day, riot police forcefully dispersed opposition activists praying at the site of a former Bernardine monastery.
On April 17, police in Brest held five European Belarus campaigners in jail overnight and fined each of them BYR 70,000 ($25) for organizing a Solidarity Day rally. On June 30, police detained European Belarus campaigners Maksim Vinyarski and Uladzimir Kumets overnight; both were subsequently fined BYR 350,000 ($125) on July 1 and released. Their associate Maksim Sergiyets was fined BYR 875,000 ($305) on similar charges on June 24 and BYR 700,000 ($250) on September 14 for participating in the September 9 protest. Vinyarski was again held in custody overnight on September 21 and released on September 22 with a BYR 1,050,000 ($375) fine.
On July 16, police broke up several Solidarity Day rallies across the country. In Minsk police detained and beat approximately 10 European Belarus civil campaign activists inside a police bus. Young Belarus leader Artur Finkevich and youth activist Andrei Kim reported that they were abused at a police station.
On September 9, members of the opposition held a protest in Minsk against Russian-Belarusian military exercises then under way; police used force to disrupt the protest. For example, European Belarus civil campaign activist Zmitser Barodzka stated that law enforcement officers had injured his nose. The following day police detained 17 opposition activists for four hours at a police station, during which time the officers allegedly harassed, humiliated, and physically assaulted them. Police also denied the detainees access to medical assistance";
Arbitrary arrests and detentions, including arrests of entrepreneurs Mikalai Autukhovich, Yury Lyavonau, and Uladzimir Asipenka, as well as Young Front activist Artsyom Dubski:
"On February 13, police arrested Artsyom Dubski upon his arrival in the country for violating his previous house arrest sentence. Dubski was initially charged for participating in a peaceful demonstration of entrepreneurs in Minsk in January 2008. On April 15, authorities released Dubski pending trial, and on July 7 a court sentenced him to one year's imprisonment. On November 27, authorities rejected Dubski's request for parole, and he remained in prison at year's end.
On February 8, riot police in Vaukavysk arrested two former political prisoners and entrepreneurs, Mikalai Autukhovich and Yury Lyavonau, and their associate, Uladzimir Asipenka, in armed raids. On February 18, the three were charged with alleged deliberate destruction of property, arson, and illegal arms possession. On June 23, Autukhovich was additionally charged with terrorism. Investigators extended their probe every three months to hold the activists in custody pending trial. Authorities released former political prisoner Lyavonau on August 8 and dropped all the criminal charges against him on September 24. At year's end Autukhovich and Asipenka remained in pretrial holding facilities";
Violation of trial procedures, including delivering judgements in absentia;
Harassment of NGOs and monitoring telephone conversations of opposition activists:
"Authorities harassed both registered and unregistered NGOs with frequent inspections and threats of deregistration and monitored their correspondence and telephone conversations. On April 26, police searched the offices of human rights group Charter97 and obstructed its live coverage of a Chernobyl-related demonstration";
Conscription into the military as a preventive measure against oppositionists;
Criminal persecution of the persons who choose a civilian service alternative to mandatory military service due to their religious beliefs;
Refusal to deliver independent newspapers through the state-owned postal system, Belposhta, and the state-owned kiosk system, Belsayuzdruk:
"On February 8, a new media law entered into force that allows authorities to further restrict press freedoms. The law subjects online news sources to the same regulations as print and broadcast media, requires reregistration of existing media before February 8, 2010, mandates accreditation of journalists, and limits support from foreign organizations to 30 percent. [...]Under the law, the government may legally block any unregistered Web sites, regardless of their origin."
Expulsion of students for their political activity;
Restriction of freedom of assembly and associations;
Discrimination against use of the Belarusian language;
Restriction of freedom of nontraditional religious groups;
Harassment against the unrecognized Union of Poles in Belarus;
Discrimination against independent trade unions;
Internet censorship:
"The government partially restricted access to the Internet, and monitored e-mail and Internet chat rooms.
The authorities freely monitored Internet traffic. Internet cafe owners were required to maintain records of their customers and submit them to government security services. By law Beltelekam and other organizations authorized by the government had the exclusive right to maintain Internet domains.
In December the Council of Ministers drafted a bill that would provide for registration of all Internet media outlets and identification of all Internet users and would allow authorities to block access to "extremist" and other objectionable Web sites. The bill, which was not subject to public discussion, would also make Internet service providers accountable for information released by customers. On December 30, Lukashenka stated that the government should "establish order" on the Internet to "rigidly regulate and hold responsible" Internet users.
On occasion state providers blocked independent and opposition Web sites during major political events. On June 8, authorities blocked the Web site of human rights group Charter97 after it posted a satirical show about Lukashenka and other materials criticizing the government."
THE FULL TEXT OF THE 2009 HUMAN RIGHTS REPORT ON BELARUS IS AVAILABLE HERE