Crackdown of Charter'97 office (Photo)
189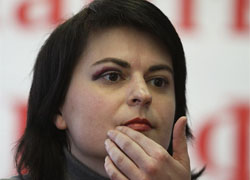 Police burst in Charter'97 website's press-room. Computers seized. Editor of site charter97.org Natallya Radzina beaten. This is connected with professional activities.
At about 3 p.m. police officers and people in mufti have burst in the office rented by journalist Natalya Radzina.
There were 7 persons in the office during the search. Police officers were justifying that by the fact that they are carrying out operative work on finding a person called Igar Svabodzin in frames of criminal case connected with corruption in law-enforcement structures. Policemen seized the computers and other office equipment.
The policemen were using force to break into the flat. As Natalya Radzina came out of door, they ran down the stairs and pushed her to prevent her locking the door. One of the policemen hit Radzina's face damaging her eye. Only after that they demonstrated official order for the search signed by prosecutor of Gomel region Valyantsina Shayevaya.
Inspector of Leninski district police department Alaksandr Tchuy was in charge for the search. About 10 policemen of Leninski district police department and Minsk city police department were taking part in the search together with unidentified persons in black masks. Only police officers captain Andrei Kryvalevich and captain Dzmitry Kanyuhevich identified themselves. Masked people reacted in Nazi hail when they were asked to identify themselves.
Eight computers were seized as a result.
"Policemen were dressed in mufti, and behaved like thugs while breaking into the office. They hit my face for executing my professional duty. It is obvious that they are trying to shut us up and to seize our opportunity to say the truth. And it is not occasionally. Just yesterday our site published the information that leader of "European Belarus" Andrei Sannikov will nominate for presidency. Today the office is ruined, journalists beaten, computers confiscated. This is both stupid and terrible. Yes, it will be harder for us to work. But we will continue our work and masked thugs with Nazi hails will not stop us. Lukashenka's regime embarassed itself with its shameful behavior again because they are so afraid of freedom of speech and real opponent on the elections," – said editor of Charter97.org Natalya Radzina.