Andrei Sannikov: We've defeated fascism, and we will defeat Lukashism
49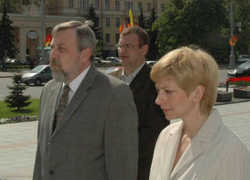 On the day of Victory over fascism the leader of "European Belarus" civil campaign Andrei Sannikov laid flowers to the memorial in Victory Square in Minsk.
His wife, a well-known journalist Iryna Khalip, and activists of "European Belarus" joined him and paid the tribute to the memory of the fallen in the Second World War.
"It is a great holiday. On this day the world disposed of the bloody dictator. The war in Europe ended. It is absurd that Lukashenka who admires Hitler organizes celebrations at the state level. It is an insult of the Belarusian nation that has made a great contribution to the victory. But I believe that our nation that has overcome fascism will defeat the current dictator as well.
We have come to pay tribute to the memory of the by that horrible war. They have done everything for us to live in our own free country, and we must act at their behest. I think that the Victory Day would be celebrated on May 8 and 9. The Capitulation Act was signed on May 8, but for a long time we celebrated this great day not with Europe, but with Moscow as Stalin wanted. Stalin aimed to preserve the totalitarian regime, and could not celebrate this day with free nations. But we will win and live in a normal European country," Andrei Sannikov said in an interview to "European Belarus".