Andrei Sannikov: "We'll demand UN to investigate abductions in Belarus"
45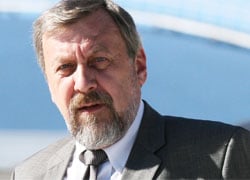 Russia may have additional information about Belarusian authorities' involvement in political murders.
As Voice of America reports, Alyaksandr Lukashenka got information slaps in his face from two Russian TV channels ahead of signing documents on regulation of the Customs Union and after Belarus had agreed to join the Union.
A documentary film with a speaking title "Godbatka" (Godfather) was shown by NTV in Sunday prime time. The subtitles before the movie told it had been made a year ago, but cassettes had been seized by the Belarusian KGB. How ever, journalists managed to return the footage later, the film said.
The Belarusian ruler is unequivocally accused of organizing killings and disappearances of his political opponents and uncomfortable persons such as vice speaker of the Supreme Council Henadz Karpenka, former minister of internal affairs Yury Zakharanka, vice speaker of the Supreme Council and former head of the Central Election Commission Viktar Hanchar, TV operator Zmitser Zavadski, businessman and public figure Anatol Krasouski. The authors recollect everything about Lukashenka, even his praises to Hitler and declaration of an intention to set orders of Germany of 1930s in Belarus.
The authors gave no quarter to Lukashenka's private life and told how he had broken up with his "mistress Abelskaya" and left his younger son Kolya to live with him. Enormous financial support from Russia allowing "the last dictator in Europe" to build the existing regime was given much attention.
State-run Russian Today TV network showed a not less tough film about the ruler of the "union state". Belarus broadcasted neither of the films. Nevertheless, the film immediately appeared on the Internet and provoked indignation of official Minsk and great excitement in Belarus and abroad.
According to observers, there are a lot of signs that the exposing videos reflect the position of the Russian authorities and were created on their order. Analysts think at least two factors can prove this idea – obvious control of the Russian authorities over NTV and Russia Today and unconcealed irritation between the Russian and Belarusian presidents.
Coordinator of the civil campaign European Belarus and presidential candidate Andrei Sannikov called the films on Russian TV an "information blast" in Minsk.
"The fact the films were shown on Russian TV is likely to demonstrate that additional information about the republican top officials' involvement in political murders appeared. The issues is so serious that we are going to prepare an appeal to the United Nations calling to organize international investigation of political disappearances in Belarus. The fact this is happening in the run up to he presidential elections gives grounds to raise a question about Lukashenka's impossibility it run in the elections. If the secrete services have information about his involvement, he as a person involved in the case cannot contest," Andre Sannikov told Voice of America.