Sensational film about Lukashenka on NTV (full version)
495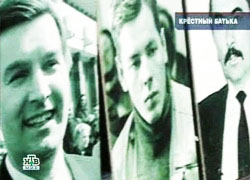 A Russian TV channel at last told the truth about political disappearances and killings of oppositionists in Belarus.
The programme "Chrezvychainoye Proisshestviye" (Emergency Event) on NTV channel showed the film "Godbatka" telling about the mysterious death of vice speaker of the Supreme Council of Belarus Henadz Karpenka, abductions and killings of former interior minister Yury Zakharanka, vice speaker of the Supreme Council, former head of the Central Election Commission Viktar Hanchar, journalist Zmitser Zavadski, businessman and public figure Anatol Krasouski. The film shows archive interviews with the abducted oppositionists and their relatives and says directly about involvement of the Belarusian authorities in elimination of their political opponents.
The movie gives an interview with former presidential candidate Alyaksandr Kazulin, tells how he was beaten ahead of the elections and then thrown into prison. The film tells about the private life of the Belarusian ruler and his illegitimate son, Russia's pay for the regime of Belarus, and billions spent to support Lukashenka.
The movie also shows Lukashenka praising Hitler and telling that Germany of the 1930s was a model of the state structure for him.
Here you can the film aired by NTV on July 4. Godbatka didn't pass the censorship traditionally and wasn't shown.
The full version of the film:
Trailer:
The film can be downloaded here (652.02 МБ).