Prosecutor General's role as extra
26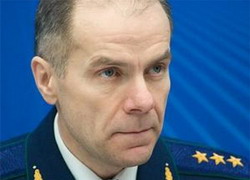 Prosecutor General Ryhor Vasilevich avoided answering a question whether the General Prosecutor's Office was ready to invite international experts in order they could ensure the investigation was competent and objective.
He told this to journalists on January 24, BelaPAN reports.
The General Prosecutor's Office of Belarus intends to examine if investigation in the so called case on "mass riot" in Minsk on December19, 2010, complies with legal requirements before it is sent to court.
Vasilevich doesn't think it's a problem that lawyers have not been able to see their clients since December 29. The fate of Andrei Sannikov, Uladzmir Nyaklyaeu, Mikalai Statkevich, Zmitser Bandarenka, Alyaksandr Atroshchankau, Iryna Khalip and other political prisoners remain unknown.
As it turned out, "on 31 December, 2010, a representative of the Prosecutor's Office visited the detainees at the KGB's pretrial detention facility. At that time they had had no complaints." Vasilevich added that "a person who was visited by a representative of the Prosecutor's Office signed a document he didn't have any complaints," Interfax-Zapad news agency reports.
Vasilevich confirmed the detainees have the right not to incriminate themselves. He told that in a reply to a question what evidence the detainees should give to be freed.