Papal Nuncio refused to hear out families of political prisoners
7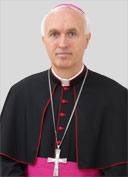 Archbishop Martin Vidović, the Apostolic Nuncio of the Holy See to Belarus, has refused to meet with relatives of persons imprisoned in the KGB jail.
As charter97.org was informed, representatives of "Release" civil initiative, which unites relatives of political prisoners who are held in the KGB (State Security Committee) pre-trial detention centre, were not able to meet with the papal nuncio. Their request to meet was refused without giving any reasons.
The families wanted to forward a letter to Pope Benedict XVI with a request to assist in release of the presidential candidates, activists and journalists, imprisoned after the peaceful protes rally on December 19.
We offer the text of the letter:
To Most Holy Father Pope Benedict XVI
Relatives of arrested politicians, community leaders and common citizens are sending a letter to Pope Benedict XVI with a request to support them by prayer and to help in release on the innocent.
Your Holiness, we are relatives of politicians, community leaders and common citizens arrested on December 19 in Minsk. We are turning to you for help.
The night of December 19-20 has become one of the most terrible moments in the new history of Belarus. More than 50,000 persons took to the streets in protest against the electoral fraud, but the authorities used unprecedented crackdown measures, trying to maintain power at whatever the cost. Thousands of people were beaten up, many of them were thrown to prisons.
Within one night which followed the election day, more than 1,000 persons were beaten up and arrested. Today these people are in Belarusian prisons. 23 persons are incarcerated in the KGB (State Security Committee) prison. 5 of them are presidential candidates, 3 are journalists, and the rest are campaign managers and electioneering agents of the candidates. They are charged with organising and participation in mass riots and face up to 15 years in prison under the Criminal Code. Today these people have become hostages of the regime, like the rest 9.5 million of Belarusians living in the country.
Today Belarus is enshrouded in darkness. Arrests of activists, raids and pogroms at independent websites and newspapers offices, searches of apartments continue. The authorities are blackmailing the political prisoners using their little children.
We are seeking your help.
We ask you to support by your prayer those Belarusians who are in trouble now, and to use all your influence for the innocent to be released from prisons.
"Release", a civil initiative of political prisoners' families