Military helicopter crashes in Pruzhany killing crew
1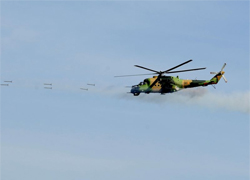 A Mi-24 helicopter belonging to the 181st military helicopter base of the Belarusian Air Force and Air Defence Forces crashed in the evening of November 29 in Pruzhany.
As "Salidarnasts" has learned from a source, three-member crew died. According to preliminary information, it was a scheduled flight. The tragedy happened at about 8:00 pm.
The Belarusian Emergency Ministry confirms the helicopter crashed.
Official confirmation appeared on the website of the Emergency Ministry: the tragedy took place at 7:45 pm during a scheduled training flight as the helicopter was approaching an airfield in Pruzhany. "The Ministry commission is carrying out an investigation over this fact. The military body extends condolences to the families of died pilots," a press release says.
The killed crew:
Pilot in command Major Aleh Kakhno
Technician Captain Valery Babko
Pilot Dzyanis Hlushchanka
We remind that experts are still unable to say the reason for the crash of a border guard helicopter near Pastavy, which killed two crew members and a TV crew over a month ago.