Belarusian KGB has made an ass of itself again
448
On the photograph: "a KGB overseer Dzima"
4.11.2011, 0:18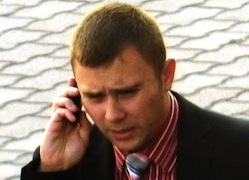 An administrator of Vkontakte social network's community Maxim Charnyauski, recruited by the KGB, has managed to his "overseer Dzima" and his "kontora" (the office).
The story of the young man has been publicized by Mikalai Khalezin in his blog.
Maxim Charnyauski is a second-year student of the Journalism Department at the Belarusian State University. He is a calm, sensible guy with a good sense of humour. As many young people, he can hardly bear the current regime, and consequently, according to the authorities, he is politically unreliable. His "political unreliability" had been most vividly demonstrated during the protest rallies in summer called "Revolution through the social network", when Maxim became an administrator of the community "We are fed up with this Lukashenka" in Vkontakte social network.
On July 13, 2011 he was summoned to the KGB, allegedly "for a preventing conversation", and in reality it was a 5-hour-long interrogation carried out by 4 gebists (representatives of the state security service). Its result was Maxim's agreement to collaborate with the KGB. In reality, this skinny guy turned out to be a hard nut to crack for KGB men, who have created a conveyor system of destroying young people's lives. On the next day Maxim started to look for the way out of the situation.
The first two meetings were full of banal brainwashing, when the KGB men were explaining how bad oppositionists are, and how good are them, of the kolkhoz regime's prison guards, who are in charge of peace and order in Belarus. At the third meeting "overseer Dzima" (Dzmitry), whose surname is still unknown, finally announced the task for Maxim – to go to Poland, and to get into confidence of Vyachaslau Dziyanau (Viacheslav Dianov), the coordinator of "Revolution through Social Networks" movement, in order to provide information about the plans of the RTSN to the KGB later.
When the goals and objectives were announced, Maxim resolved to make a reckless act. He recorded his conversation with the KGB man with a Dictaphone, and made pictures of his "overseer". Luckily, the level of training of our today's special services is so low that it is hardly possible to discriminate between a KGB officer and an agriculturist of a poorly performing collective farm. And that is why "the overseer Dzima", born in Maladzechna and carried away by his own weepy monologue aimed at recruiting, could not notice the threat for his career in a reserved two-year student. Now, reading these lines, he must start to understand what had happened in reality. And a natural thing has happened: the system built on fear starts to collapse. Statements about tortures by Ales Mikhalevich, Andrei Sannikov, Uladzimir Kobets, Alyaksandr Atroshchankau started to be echoed in confessions of the young people who had experienced the pressure of the hideous machine of recruiting.
The leadership of the Belarusian secret services has forgotten that in Soviet times every recruited person was a result of unique, painstaking "piece work" by an entire group of carefully selected and trained professionals. That is why the special services instilled a bodily fear, and every citizen was sure that "long arms of the KGB" would reach them in almost every part of the world. Today it is enough to listen to the recording of the flood of words by "overseer Dzima" ("I am worried about you", "you are so young, you still understand nothing") to understand: we cannot fear them, we should seize them by the scruff of the neck and drag them back to Maladzechna, to work as a unskilled worker at some flax plant.
Now Maxim is in safety, he is to continue studies abroad. In addition, I think he would be able to continue his activities as an administrator of anti-Lukashenka communities in social networks, but without a threat of a several years' imprisonment for that. He says: "My case has demonstrated that their tactics of recruiting does not work anymore. Next time when they would try to recruit anyone, they would think twice. I have collected lots of useful information, and it will be published, for those who stay in Belarus and struggle inside the country to be ready for a meeting with the KGB."
There are two more piquant details in this story.
The first one. When Maxim faced a problem with receiving a Schengen visa, and the group engaged in sending Maxim abroad could not disclose its support, the KGB representatives stated that they would make a visa for Maxim through their own channels. Then they took a break, but later the KGB overseers evidently had second thought and stated they would not help him with the visa themselves. A logical question suggests itself: What "own channels" does the Belarusian KGB have for obtaining a Schengen visa?
The second detail. Before Maxim departed, he received a CD with a virus from "overseer Dzima". Maxim was to activate the virus at the computer of Vyachaslau Dziyanau, and at computers of other political activists, if possible. Now experts are studying this virus, which allows opening access to all information at the infected computer. Who had created this virus, and at how many computers of political activists had already been created, leaking information directly to the Informational and Analytical Centre under the president?
In coming days a press-conference will take place in Warsaw. Maxim Charnyauski, representatives of the "Revolution through Social Networks" and a few young men who had experienced the same process of recruiting, are to take part in it.
The audio recording of Maxim Charnyauski's conversation with "overseer Dzima"
Photos taken in Minsk during the meeting of KGB men with Maxim