Welcome to "Europe": KGB is waiting for you
178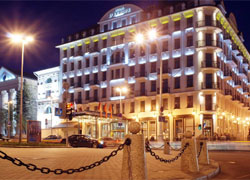 A 5-star "Europe" Hotel in central Minsk could be legitimately called the most transparent hotel in Europe.
Charter97.org has been informed by one of the hotel's employees about the details of spying on guests and "innovative services" offered to foreigners by KGB men.
According to the established Soviet tradition, it is impossible to get a position at a hotel of such level without being jobbed by special services. That is why almost every employee, from the director to a chambermaid, is connected with the KGB by this or that kind of relationship. The ideological and recruiting work is coordinated by "a personnel officer" V. B. Kukarakin, who collects information about the hotel staffers and through the staffers about their colleagues.
A special role belongs to security service workers. They are Chief of Security, Colonel G.N. Klepcha, a former head of the Information and public relations department of the Interior Ministry of Belarus and deputy Chief of Security Colonel S.N. Racheeu, a former chief of the criminal investigation department of Minsk region.
These people coordinate the work on wiretapping of hotel guests and organizing access of KGB officers to rooms, communications and other sources of information.
As the source of charter97.org has informed, all rooms of the hotel are totally bugged. Surveillance equipment is situated in one of the rooms on the second floor right in the hotel. Besides, when especially important persons stay in the hotel, a special bus with equipment is parked in the yard of the hotel for additional monitoring of cell phone calls.
Belarusian special services have special interest in citizens of Poland and Germany. Guests from these countries are under additional surveillance, their visits are prepared. All their contacts and meetings are recorded, including video recording. Video filming is made not only in the corridors of the hotel, but in some rooms. Spycams are hidden in furniture, stand lamps and plasma TV sets.
Call girls work in close cooperation with special services. They had been trained for obtaining necessary information. As noted by our source, even well-known public figures, female journalists of state-run mass media are involved in such work. Unusual services of such girls are offered by the guards of the hotel, and girls are just required to gather information, they can keep the money.
In "Europe" hotel special attention is paid to Internet monitoring. The hotel has its own Wi-Fi network, through which administrators are collecting everything the guests receive or send: logins, passwords, sent files, website addresses visited by the guests, MAC addresses of computers. Acquisition of information is coordinated by Alexei, an administrator, a secret agent of the KGB ("seksot", an informant). His office is situated on the third floor of the hotel, the server room accumulating information is also there.
We remind that delegations of Western politicians, election observers, well-known journalists, musicians, members of the IMF mission and other international organisations stayed at the hotel. In this respect, "Privacy policy" section at the official website of the Europa Hotel looks rather comic. Guests are assured that the hotel takes all measures to ensure protection of its clients' private life.