Reprisal: Mikita Likhavid sentenced to 3.5 years of imprisonment
122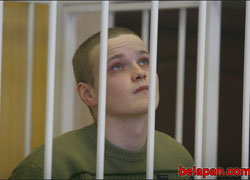 A 20-year-old activist has been sentenced to 3.5 years in a maximum security penal colony.
The sentence has been passed by judge of Partyzanski district of Minsk Natallya Pykina. Prosecutor Anton Zaharouski decided that Mikita Likhavid had been taking part in the so-called mass riots, had shown resistance to policemen and had been breaking doors of the House of Government. The prosecuting officer asked to punish Likhavid by 4 years in a maximum security penal colony.
A lawyer Darya Lipkina asked to the court to free her client from the accusation. In her speech she attracted attention to the fact that the practice in the application of Article 293 of the Criminal Code was absent up to that time. As said by the lawyer, analysis of this article allows making a conclusion that mass riots should be accompanied by armed resistance, pogroms, arsons, violence, and over society, violence to the society, destruction of property, and notably, all the five constituents should be present.
However, as Lipkina believes, there was no such a fact as existence of "a disorderly crowd, behaving outrageously, which committed pogroms and used violence" in this case. A little group of persons, about ten of them, and not the crowd, was engaged in destruction of property, the lawyer underlined.
Besides, as stressed by Lipkina, it's a matter of doubt whether violence had been used against those 27 questioned persons who are considered to be the injured persons. Thus, as said by the lawyer, some of the victims had not come to underwent expert examination, and the facts of their medical check-ups are not enough, and their testimony about violence given during interrogation and in the court do not match.
Hearings in the case of Mikita Likhavid started on March 22 in the court of Partyzanski district of Minsk.
During the hearings 29 policemen were questioned. None of them saw Likhavid on the square near the House of Government on December 19, none of the riot policemen had any claims to him personally. They had not seen any pogroms or arsons, except for breaking windows and door glass.
Making his last statement, Mikita Likhavid asked to free him from an accusation under Article 293, and limit the punishment to the term served in the remand prison.
The trial over Likhavid has become the 8th one in the case of the so-called mass riots in Minsk on December 19. the persons who were convicted earlier are: Vasil Parfyankou (4-years sentence in a maximum security penal colony); Alyaksandr Atroshchankau (4 years in a medium security penal colony); Dzmitry Novik and Alyaksandr Mauchanau (3.5 years and 3 years of imprisonment in a medium security penal colony respectively); Russian citizens Artsyom Breus and Ivan Haponau (fines of 300 basic units); Dzmitry Myadzvedz (3 years of restriction of liberty without placing him to a correctional facility).