Andrei Sannikov has serious health problems
124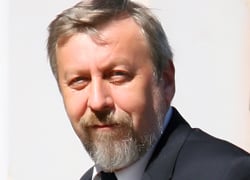 The mother of the arrested Belarusian presidential candidate was denied to pass a food parcel to her son.
As Alla Sannikova told the website charter97.org, she came to the KGB jail to hand over food to her son, but KGB officers told her they wouldn't accept it.
"Andrei marks his birthday on March 8. I bought him lots of tasty things, but I was told I couldn't pass it on. I was so shocked, I nearly lost consciousness. KGB officers phoned to a medical assistant and she said Andrei could receive only curd cheese and cooked sausages, all other things were forbidden. The girls (the wives of political prisoners – charter97.org) ran to a shop and bought it, so I managed to pass on the parcel to my son by 12 pm. Andrei has apparently faced serious problems with his stomach and liver. I really worry. Besides, he doesn't have a lawyer now. I don't know anything about him," the mother of the presidential candidates cried.
Besides health problems that appeared in the KGB jail, Andrei Sannikov's leg was injured before. He was brutally beaten during the demonstration on Independence Square and arrested.