Two years of suspended sentence to Khalip, three years in open type correctional facility for Sevyarynets
117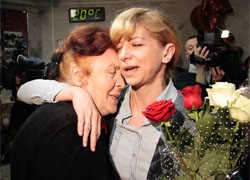 Sentences to protesters against rigging the presidential election results were given on Solidarity Day.
Pavel Sevyarynets, a co-chairman of the organizing committee to create the Belarusian Christian Democracy party and campaign manager for presidential candidate Vital Rymasheuski, is sentenced to 3 years of restriction of freedom in an open type correctional facility.
Syarhei Martseleu, a campaign manager for presidential candidate Mikalai Statkevich, was given 2 years of probation.
Journalist Iryna Khalip, the wife of presidential candidate Andrei Sannikov, got two years' sentence with two years of suspension.
The verdict was pronounced by judge Zhanna Brysina.
We remind that Iryna Khalip's husband, presidential candidate Andrei Sannikov, was sentenced to 5 years in a medium security penal colony on May 14.
Khalip, Sevyarynets, and Martseleu were given "softer" sentences because they were charged not with "organizing mass disorders", but with "taking part in group actions that breach public order". This criminal article carries milder punishment, up to three years in prison.
Iryna Khalip, Pavel Sevyarynets, and Syarhei Martseleu were arrested on December 19, 2010, and thrown in the KGB jail. The journalist was placed under house arrest on January 21, 2011. Sevyarynets and Martseleu remained in custody.
Lawyers say the accusation was "legally ignorant". Even state prosecutors fail to say what their guilt was. They only guilt they have is that they were in a column of demonstrators at a protest action against falsification of the presidential elections.
Iryna Khalip notes that charges against her were "far-fetched with childish terminology". In particular, it was her reaction to a provision of the indictment saying her example encouraged other people in the column.
"I do not admit the guilt. I was performing my duties as a journalist. And I performed them perfectly. I did not leave my husband and he felt better with me," the journalist said.