Price freeze leads to goods deficit
22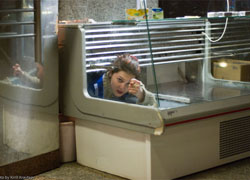 Syarhei Balykin, the head of the Association of Small and Medium Businesses, thinks the government's decision to extend the list of socially important goods and freezing prices on them will lead to their deficit.
According to him, "This is not a market decision. Neither population nor business will profit from it," BelaPAN reports.
"In view of restrictions on setting trade mark-ups, it is more profitable for trade companies to sell more expensive goods. They can raise prices by using a chain of legal and illegal intermediaries and middlemen. The state may impose sanctions in response, but risks of sanctions will be included in prices," the expert said.
The government's decision can lead to deficit in goods, which will further lead to "black market and corruption", Balykin underlined.
Besides, "such measures deter foreign and domestic investors", the expert noted.
"These decisions resemble decree No 991, which in fact banned intermediaries. It was cancelled later. On the one hand, the state announces liberalization, but on the other hand, it scares everyone by its actions. As problems arise, it takes a truncheon and beats at heads," the expert said.
"The best price regulator is the invisible hand of the market, as Adam Smiths said," Balykin underlined. "To really decrease prices, the state should conduct a wise macroeconomic policy and stop feeding economy with uncovered money trying to increase trust to the national currency. In this case, people will not hurry to get rid of their money buying goods on their payments."
The Institute of Economics at the National Academy of Science of Belarus declined to give comments on the government's decree to BelaPAN referring to a ban.