"Policemen broke his finger and maybe ribs…"
63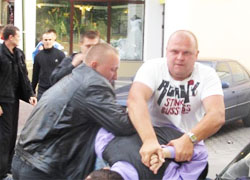 A resident of Brest, who defended people from plainclothes policemen, was beaten and arrested for 15 days.
Participant of a silent action Yury Nestser, who was released after a term of arrest, told this to Radio Svaboda.
"On July 6, we failed to defend Yury Batsuk, a coordinator of Young Belarus, because he was attacked by six men in plain clothes. Four bandits attacked Aleh, who tried to defend Batsuk. They twisted his arms and threw into a police car and then into a prison van. This young man is Aleh, he runs business in Brest. I was in a cell with him. Aleh told me that they had thrown on the floor in the prison van, beat and stomped on him. Policemen broke his finger, and maybe ribs too, injured other body parts and broke his glasses. They he was taken to a police department."
According to Yury Nestser, Aleh was accused of violating two administrative articles: taking part in an unauthorized rally and resistance to police officers. He was arrested for 15 days.
Aleh still serves his term of arrest in a temporary detention facility of the Leninski district of Brest.
On July 15, the Leninski district court of Brest sentenced Yury Batsuk, a coordinator of Young Belarus in the Brest region, to a fine of 40 basic units.