Stanislau Shushkevich: Belarus has its own Vaclav Havel
181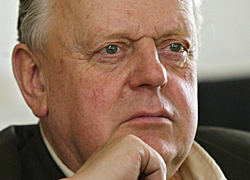 Negotiations with the dictatorship are possible only on the issue of handover of power.
The first head of independent Belarus, Stanislau Shushkevich, supported a proposal of Belarusian presidential candidate Andrei Sannikov regarding Lukashenka's recent initiative.
We remind that the Belarusian dictator has recently said that he wanted talks with the opposition amid a deep economic crisis in the country. After a response that all political prisoners should be released first, Belarusian official ideologists hurried to say that the dictator has not themes to discuss with the opposition. It remains clear that Lukashenka tested this issue, but certain opposition politicians were ready to talk with him on the scenario offered by him.
"The evolution without talks between the authorities and opposition is not possible, but we must speak about talks, not about surrender. Now, our rather famous opposition members Nyaklyaeu and Milinkevich in fact support what was created by Lukashenka's political team. Their logic is easy – Lukashenka frees all political prisoners, we begin talks and ask the West to open him roads to Europe," Stanislau Shushkevich said in an interview to charter97.org.
"I prefer not to hide my approaches, but I take most polite words to estimate the current situation. It is a big political mistake. Some oppositionists show solidarity with Lukashenka's team, which forms his political line. In fact, Lukashenka is becoming a legitimate president, who confirmed his presidency by the election fraud.
Europe has already called Andrei Sannikov our Belarusian Vaclav Havel, because being imprisoned, he proposes a course that would allow an evolutional handover of power in Belarus. Yes, we should start talks with Lukashenka after the release of all political prisoners. But we have just one theme – the order of handover of power. I think that negotiations with such persons as Sannikov, certain other presidential candidates and leaders of the Belarusian opposition can work out a variant more likely based on honest elections that will complete the transition of power. It's evident that people like Yarmoshyna and Lazavik must be dismissed from executive posts of the Central Election Commission, because they have been falsifying all elections in Belarus for many years.
Let's demonstrate that there are people in democratic opposition and governmental bodies who can turn today's authoritarian Belarus into democratic Belarus in a peaceful way.