Protesting workers sacked from Polatsk winery
14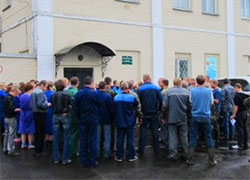 Two warehouse loaders, both members of the Free Trade Union, have been sacked.
The website ximik.info received the news from Mikalai Sharakh, a representative of the Free Belarusian Trade Union (FBTU) in Vitebsk region.
Warehouse loaders Dzmitry Syankou and Viktar Raslyakou received a reprimand after they told the media about their real wages and the work stoppage at the winery. The reprimand was issued for absence from the workplace.
In late September , the "too talkative" workers were given an order to read. In accordance with the order, they were to have a work trip to a farm for a month. Dzmitry Syankou and Viktar Raslyakou refused to go explaining they have "good excuses". Both received the second reprimand. They were sacked from the winery on the next day for "repeated work rules violations".
The work trip to a farm appeared to be not necessary, because the workers who finally went to the farm were sent back to the winery some days later.
Road police stopped the car with workers returning from the farm. Road police officers took the passengers, among them members of the Free Trade Union, for a medical examination to check the level of alcohol in the blood. Tests showed no one was drunk.
The workers filed a complaint in relation to illegal actions by road policemen and prepare to lodge a court claim over illegal dismissal.
It should be reminded that winery workers had a strike in September after they received payment of 2 million rubles. Managers of the winery denied the fact of protests.