Aleg Biabienin's black portrait (Photo, video)
14
Igar Svabodzin for charter97.org
25.10.2012, 14:10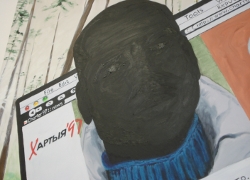 Black faces on the background of a rather colorful life. These are the black portraits of Paul Piercy.
We recognize the faces even though they are painted in black. On all these canvases are fighters for human rights from different countries of the world. The paintings create a strong effect of unexpectedness, and give a sharp reflection of the artist's idea: torn out from the normal life, fighters for freedom are thrown to jails or die, their absence is a tragedy, but their work is continued.
The idea of the black portraits was born when the artist saw a TV-program about the human rights activist from China, laureate of the Nobel Peace Prize Liu Xiaobo. The story of the imprisoned Chinese dissident impressed and amazed Paul Piercy. As a portraitist, he began to reflect about how he could paint someone who's not modeling for him. He also realized that, unfortunately, there are many courageous people in the world who sacrifice themselves for the sake of other people, but only few know about them. He felt an urge to paint portraits of such people, to draw attention to them and their countries.
Paul always paints models, but he used to work in a theater for some time and he knows the effect of the black color well. He decided to try to paint a portrait in black in a way that the facial traits are visible, but it is clear that the person isn't there.
On Paul's paintings there are Liu Xiaobo mentioned above; another Nobel laureate Aung San Suu Kyi; famous Russian journalist Anna Politkovskaia murdered by hired killers; human rights activist from the Democratic Republic of Congo Floribet Chebeya Bahizire, murdered right after he was taken to the headquarters of the local police; Muhannad al-Hassani from the Syrian human rights organization Sawasya, lawyer of the regime's opponents who has left Syria; imprisoned Vietnamese dissident and scientist Cu Huy Ha Vu; "Bahrain blogger" Ali Abdulemam; child doctor from India Binayak Sen.
Today there are 15 portraits. Each canvas is an individual story of struggle for human rights, and the history of the human rights fighters.
"All my paintings, whether they show a politician or journalist, poet or singer, lawyer or student, have one thing in common: these people want a better life for their country, their family and their children. They are ready to fight for a better future despite the great danger that this fight brings about," Paul Piercy said.
The exhibition's geography reminds about the countries that often relate to human rights violations in the documents of international human rights organisations: China, Bahrain, Iran, Cuba, Burma, Cameroon, Syria…
On the painting dedicated to Belarus there is the face of Aleg Biabienin, founder of the opposition website charter97.org. When Paul Piercy learnt Aleg's story, he didn't believe the official version of his death. For the artist, Aleg became a symbol of the Belarusian people's fight for freedom. It's noteworthy that Paul Piercy himself picks characters for his portraits. He is guided by their ability to inspire other people, both in their countries and all over the world.
"I can explain how I chose Aleg and Belarus. Two things are crucial here. Belarus is a European country. And it struck me that what's happening in European Belarus is so similar to the events in the third world countries. It was my starting point. Every painting is a certain period in a country's history. I chose Aleg because I wanted to show the power of the Internet. I painted the portrait somewhere in early 2011, before the "Arabic spring". I wanted to show the power of the Internet as a driving force behind changes. I realized why a dictatorship doesn't want someone like Aleg Biabienin; because of what he was doing – spreading information in a most effective manner. I chose Aleg for one of my painting for these two reasons," Paul Piercy said.
The exhibition is dedicated to different countries and different cultures. But it is fascinating how similar dictators are in their hatred of patriots. The character of one of the portraits is Filep Karma from Western Papua. In 2004, Filep was convicted to a 15-year prison term for having raised a banned flag at a political demonstration. Cuban dissident Orlando Zaparta charged for"disrespect" died in prison in February 2010 after 11 weeks of a hunger strike – he couldn't bear the tortures of the guards who stopped giving him water during the hunger strike. In 2008, singer and composer from Cameroon Lapiro de Mbanga was arrested and convicted to 3 years behind the bars for his song Constipated Constitution. In 2012, having served the term, gravely ill Lapiro de Mbanga went to the USA for a treatment.
Today the exhibition theblackportraits.org can be seen in Newcastle, England. Paul Piercy plans to show the exhibition in other cities in England, and in Europe. Five black portraits, including the portrait of Aleg Biabienin, will become a part of the educational program of English schools.
"I want the visitors of the exhibition to feel the same inspiration boost that I felt when I learnt about the lives and deeds of the people from the paintings. I also want more people to find out about that. I am neither a newspaper, nor a TV-show, but I want to spread the word the way I can. I am a portraitist; I just love painting human faces. I was blown away by the stories of the characters. I think that nobody should ignore what these people are doing or have done. This is what I'm trying to tell," Paul Piercy said.
Igar Svabodzin for charter97.org