Channel 4 News: UK sells Belarus arms and trains military
35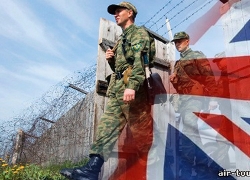 Britain sold to Belarus some £3m worth of arms exports.
With reports of torture, disappearances and political violence, Belarus is Europe's "last dictatorship". But the UK still supports it with trade and arms exports, and now plans military cooperation.
In March this year, Lyubov Kovalyova received a letter from the Belarusian authorities telling her that her son, Vladislav, had been executed, after he allegedly confessed to last year's Minsk metro bombing which killed 15. In court, the 26-year-old stood up and said his interrogators had pressured him into signing a confession. He tried to have it retracted, but without success. He was duly executed, by a shot to the back of the head.
Belarus is the only country in Europe which still executes people. The death penalty, along with the routine imprisonment of political opponents, the torture of detainees, and political show trials, are cited by the UK's Foreign and Commonwealth Office as reasons why "Europe's last dictatorship" is on their list of "countries of concern" for human rights and democracy.
Yet the UK, as the country's second largest investor, is one of Belarus's most important trading partners; it has bought millions of pounds worth of arms exports from the UK, and Channel 4 Newshas learned that now, Belarusian officers, have been invited to the UK for military training next year.
Last Sunday's elections in Belarus, which were neither free nor fair according to the Organisation for Security and Cooperation in Europe, cemented Lukashenko's grip on power, as not a single seat was contested by the opposition, which had boycotted the contest.
The election carried echoes of his landslide victory in 2010, which triggered street protests and the detention of 700 people. Then, as in 2008, all 110 seats went to pro-government candidates. Of the arrests in 2010, the FCO noted: "Some detainees made credible allegations of torture and other ill-treatment."
What went unmentioned in the report, however, was that in the run up to that period, the UK had just given Belarus the green light to buy some £2.9m worth of British arms exports, including weapon sights, navigation systems and cryptography kit - the biggest haul it had bought off the UK in years. Despite Belarus' weapons trading partners being Libya, Venezuela, Syria and Iran, according to theInstitute for Security and Development Policy.
But the boom would only be shortlived. By July 2011, the EU had placed an arms embargo on Belarus over the deteriorating human rights situation. British arms exports fell accordingly, to £30,775 in 2011 for sporting guns, imaging cameras and laser optical components. The Foreign Office insists that none can be used for internal repression; one source suggested the guns were for Olympics training.
Meanwhile, investment in Belarus has been stronger than ever. Although 2008 was a bad year for Belarus human rights, according to the Home Office, with US diplomats thrown out for complaining about allegations of disappearances of political figures and journalists, abuse of prisoners and arbitrary arrests, the FCO did not hold back. The following year, in 2009, it states on its website, the UK was the "second-largest investor in Belarus". The City of London, it went on, "provides financial services to Belarusian companies."
It's a lucrative emerging market: Channel 4 News has learned that the value of British exports to Belarus has doubled in five years, from £67m in 2007, to £125m last year. This year could be even bigger. In the first five months of 2012, total trade exceeded £77m.
That flowering of business comes despite apparent misgivings among some investors. A recent edition of FDI Intelligence magazine entitled "Belarus Beckons" noted: "The political picture is, to put it mildly, not to Anglo-Saxon tastes: Alexander Lukashenko has a firm grip on all levers and political freedom is limited."
Companies which have invested in Belarus are keen to point out, when they can, that they have not worked with the government. One such company was the PR firm, Grayling, whose parent company, Huntsworth, is run by the millionaire Conservative Party donor and personal friend of David Cameron, Lord Chadlington, the chief executive. Grayling told Channel 4 News it no longer had employees in Belarus.
"Grayling has never undertaken any business for the government of Belarus... Grayling always has, and always will, strictly adhere to the EU guidelines and policies in relation to doing business in Belarus," a spokesman said.
But human rights organisations point out that, given that 80 per cent of Belarusian GDP is through the state, it is probable that some outside investment will reach the handful of oligarchs in control of the economy.
Yulia Gorbunova, from Human Rights Watch, says the situation is now so desperate that further sanctions may be needed, despite the prospect of harming the civilian population. "Even activists themselves are saying that this is really the only thing we can do now," she said. "Especially considering that Belarus has Russia to back it up."
Index on Censorship led a campaign against an RBS bond scheme to raise funds for the Belarusian government. The bank was forced to drop it following public pressure. Mike Harris, head of advocacy at Index, said: "The banks may have pulled out but western firms continue to invest in Belarus.
"With the country still detaining political prisoners, serious allegations of torture, and a dreadful record on free speech, it's unclear why they believe this is a safe place to invest."
Now, Channel 4 News has learned, the UK government wants to strike up a military relationship with Belarus. It has invited Belarusian officers to this country next year for training in how to manage Belarus's weapons stockpile, under the auspices of the UK Joint Arms Control Implementation Group. The FCO were unable to confirm which forces could attend, but if they do, the possibility that intelligence agents with the KGB will be involved remains open.
Britain says this will mean Belarusian officers are better able to control their arms. But critics argue Belarus will use the training to insist that it proves President Lukashenko's administration can be trusted when it comes to receiving weapons.
The FCO denies it is propping up Europe's "last dictatorship", saying it had been "at the forefront of calling for sanctions" which partly led, it claims, to the release of political prisoners after the 2010 elections. A spokesman said it had been supporting Belarusian civil society with the EU, and had been working with the UN Human Rights Council.
Asked about the trade relationship with Belarus, the arms trade, and the military training, the FCO denied it was in any way "propping up" a dictatorship. It emphasised that the EU's sanctions regime "is designed to have an impact on the regime, not ordinary Belarusians".
"We continue to pursue all means possible to press for the release and rehabilitation of all prisoners, as well as for improvements in Belarus' respect for human rights and democracy," a spokesman said.
"We support the EU position of not re-engaging fully with the government of Belarus until we can see significant changes in this direction."