Andrei Sannikov: Today's Russia threatens independence of Belarus
78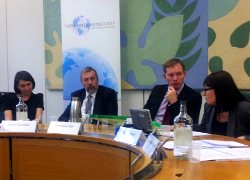 The leader of European Belarus civil campaign took part in a discussion in the UK parliament.
Adoption of the Magnitsky Act can become a serious precedent for applying international pressure on the governments of Russia and other countries with blatant human rights violations. The universal jurisdiction of the act is vital, Andrei Sannikov, a former Belarusian presidential candidate and leader of European Belarus civil campaign, said at a roundtable discussion held in the UK Parliament on November 14.
"The Russian authorities follow in Lukashenka's footsteps and carry out the methodical offensive against human rights and civil liberties. The strong international pressure, also by means of such legislative initiatives as the Magnitsky Act, should become an effective tool to counter impunity of officials. We cannot close our eyes on the dangerous processes in Belarus, Russia and Ukraine," Andrei Sannikov said. He enlisted the names of Belarusian political prisoners and emphasised the necessity of taking urgent measures to save the lives of people suffering from incredible pressure in prisons.
Answering the question about threats from Russia, Andrei Sannikov said the Russia of today poses a threat to Belarus's independence and noted the Russian leaders still had imperial ambitions and didn't hide them saying about Russia's "zones of influence" and "spheres of interests".
The event in London, which was organised by the Russia Studies Centre at The Henry Jackson Society and Hermitage Capital, was held to commemorate the third anniversary of the death of Sergei Magnitsky, a Russian attorney who worked for Hermitage Capital Management company in 2007-2008. Sergei Magnitsky and his colleagues exposed corruption among Russian officials involved in takeovers of companies, jailing businessmen and large-scale tax evasion. Having been accused of tax frauds, Magnitsky was taken into custody and died on November 16, 2009, in notorious Matrosskaya Tishina detention centre in Moscow.
The event was attended by British prominent political and public figures –  former Conservative MP Lord Norman Lamont, former minister of justice Jonathan Djanogly and Labour MP Chris Bryant; representatives of human rights groups Index on Censorship, ARTICLE 19, Reporters without Borders, the Norwegian Helsinki Committee, journalists of leading UK media and university professors.
The Magnitsky Act (Sergei Magnitsky Rule of Law Accountability Act) is expected to be adopted by the US Congress to impose sanctions, including visa restrictions, on the Russian officials suspected of having relation to the prosecution and death of Sergei Magnitsky.
The Magnitsky Act may become the foundation for the legislative aid for the democratic movement in Russia. The judicial system in Russia serves either to the authorities or to the rich. The fate of Russian opposition leaders directly depends on the adoption of the Magnitsky Act, says Natalia Pelevine, the Democratic Russia Committee head.
Photo by Index on Censorship