Teddy bear landing force from Östgruppen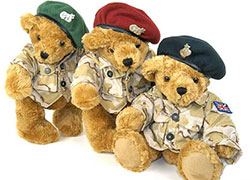 On Saturday 10 November the Swedish human rights organization Östgruppen will hold an action Teddy bear landing force – 2.
Teddy bears demanding the observation of human rights will go to Belarus. These teddies will enter Belarus absolutely legally – in parcels. The addressees are Belarusian officials and the politicians from the EU's black list, the human rights center Viasna reports.
- When in Summer 800 teddy bears travelled to Belarus, Lukashenka was furious and reproached them for illegally crossing the countries border. They were detained ad taking to police stations. That is why we are going to send teddies in parcels, but again with the demands of observation of human rights, especially the rights for freedom of assembly and association, directly to Lukashenka and his friends, - Martin Uggla, the chairman of the Östgruppen says. – In Sweden the summer action caused quite a lot of criticism, while in Belarus it was welcomed by many activists. With our action we want to express our support to the people of Belarus working for democratization of their country.
The action will be held in Stockholm city center on 10 November. It starts at 12.00. The participants will take teddy bears with them and the organizers will provide them with the addresses of the recipients in Belarus.