Belarus supplies weapons to Darfur
29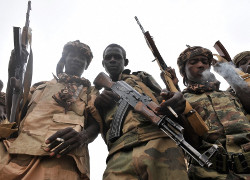 Weapons from China, Russia and Belarus are fueling are fuelling serious human rights violations in Sudan's Darfur region.
It was stated in a report by Amnesty International.
In this situation, human rights defenders call on governments to strengthen the existing ineffectual UN embargo on arms supplies to war-torn Sudan and agree an effective Arms Trade Treaty, Radio Svaboda reports.
In a report Sudan: No end to violence in Darfur, The Amnesty International refers to UN documents and reveals how China, Russia and Belarus "continue to supply weapons and munitions to Sudan despite compelling evidence that the arms will be used against civilians in Darfur".
The documents also says Sudan received 15 Su-25 aircrafts from Belarus in 2008-2010. Information about the supplies appeared in October 2010 with a reference from Reuters to a report by UN expert panel that monitors compliance with the embargo.
Arms supplies to Sudan are not illegal, but the UN embargo requires the Sudanese authorities to guarantee the weapons will not be used in Darfur.
The conflict in Darfur began in 2003, when non-Arab rebels took up arms against the government. According to the UN's estimates, over 300,000 people died in the conflict.