Ill-treatment in Minsk's detention centre goes on
8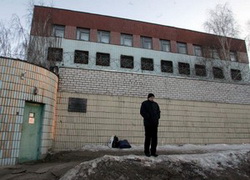 According to Alena Dubovik, who was detained in MTZ culture centre on March 24, three days in the detention facility were an ordeal for her.
Her arm was injured during the detention, but she was found guilty of disorderly conduct. Policemen wrote in a report the girl "used obscene language". According to Alena Dubovik, three days in the detention centre in Akrestsin Street were an ordeal for her. Policemen were sneering at the girl and trying to humiliate her, Radio Racyja reports.
"They laughed and mocked at me. They found my appearance funny. It seemed funny to them that I, a little girl, showed disobedience to police. It was strange to them. But I think they understand everything. I was reading newspapers, books, playing draughts and talking most of the time. Me cell mates were the people who are frequent guests in the detention facility, so it was not easy the to talk to them," the girl said.
Last Saturday, the Food Not Bombs initiative organized a concert in the MTZ culture centre in Minsk. Police burst into the building before the gig. All people, who gathered for the concert, were detained and guarded to police departments in Minsk.
On Monday, fifteen people were fined or sentenced to short terms in custody – from one to three days.