Belarusian TV threatens to return Sannikov and Bandarenka to prison
116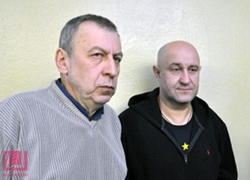 A report about the released political prisoners was shown on Belarusian television in the evening of April 17.
Propagandists say Andrei Sannikov and Zmitser Bandarenka demonstrated an inadequate reaction to their release, Euroradio reports.
The pro-Lukashenka TV channel was indignant at Sannikov's statement he could have been driven to death in prison and Bandarenka's remark about a network of concentration camps in Belarus.
The channel thinks these statements show the political prisoners regret they were pardoned. In this case Sannikov and Bandarenka can be returned behind bars "in full compliance with the law". However, propagandists didn't say how a pardon can be cancelled in a lawful way.