Austrian NOC chief being tried for financing Lukashenka's vacation
30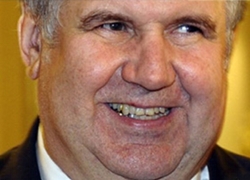 All counts in the case of funding Lukashenka's Alpine vacation were heard at trial in Vienna.
Trial over General Secretary of the National Olympic Committee Heinz Jungwirth is to resume in Vienna on July 3, Radio Svaboda reports.
The trial started last week to investigate the case on corruption in the National Olympic Committee of Austria.
At the previous trials, the court heard the counts relating to a secret account of the NOC. Investigators proved a "black account" was opened in May 2011 in  Raiffeisen Bank (by the way, Belarusian Priorbank belongs to the same bank group) on request of then NOC president and Casinos Austria  CEO Leo Wallner.
Wallner, Jungwirth and other top executives of both institutions – Gerhard Skoff and Martin Schlaff – have direct relation to reception of a Belarusian delegation headed by Alyaksnadr Lukashenka and organizing their vacation in the Alps. It is proved the black account was used to pay for the holidays. The expenses were not included in tax reports for a long time.
Publications by sports expert Erwin Roth in Austrian media about the Belarusian delegation stimulated the disclosure of other shady deals by NOC and Casinos Austria executives.
As Erwin Roth told RFE/RL, during the first court hearings, defendant Heinz Jungwirth had to give evidence on every bill relating the Alyaksandr Lukashenka's "vacation".
A lot of questions were put to Leo Wallner, who was called to court as a witness. It is Walllner, Jungwirth states, who initiated opening the account. It is he who signed an appropriate order. Wallner also proposed an initiative to invite the Belarusian head of state, who was banned from travelling at those times, to a ski resort in Austria.
Wallner took active part in organizing the visit of Belarusian guests. Sport. entertainment and meetings with business partners were on the agenda.
Austrian business in Belarus showed active growth after 2002. Among Austrian companies that appeared on the Belarusian market are  Raiffeisenbank, Telecom Austria,  Wiener Städtische insurance group, Strabag construction company and others.
Austrian consulting firms are widely represented on the Belarusian market. Among the consultants is Austrian former Vice-Chancellor Hubert Gorbach, now accused of corruption. He discredited himself as a politician by saying the 2010 presidential election in Belarus was fair.