Lukashenko will have to answer for smuggling petrol products
36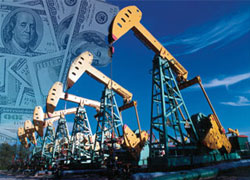 (refreshed) An investigation on the smuggling of "solvents" has ended in Moscow.
Question about Belarusian export of solvents and diluents, produced from Russian duty-free oil, will be raised during the visit of Russian premier-minister Dmitry Medvedev on July 18 in Minsk.
This was reported to RIA "News" by a source in the Russian delegation. On Wednesday Medvedev will take part in a meeting of the Council of Ministers of the Union State and will meet with Alexander Lukashenko.
"The issue will be raised, because it is absolutely clear,  about why there is such unexpected increase in export, such data which causes questions", - reported the source.
He reminded that Belarus and Russia now have mechanisms of discussion and the agreement which regulates supplies of oil and petroleum products.
"We have questions and we want to receive answers on them; maybe Belarusian side will give positive answers to all questions. Then there will be no need in reaction", - said the interlocutor.
"No one is going to bury this topic, this is a serious question", and Belarusian side understands this, pointed he.
The source confirmed that ministries of Industry and Trade of Russia already conducted their investigations, but refused to comment the results.
  Earlier, Russian officials were expressing a concern that Belarus exports more petroleum products than one can extract from supplied oil. Also were announced suspicions about that Minsk exports products under the guise of organic solvents in order to avoid export fees, paid to the Russian budget.
In December 2010 Russia, Belarus and Kazakhstan signed the agreement about cooperation in the framework of a Common Economic Space. This allowed Minsk to receive Russian oil and natural gas "duty-free".  At the same time it has been obliged to transfer 100% of export fees on petroleum products, made from Russian oil and supplied beyond the Custom Union, to Russian budget. At the same time, solvents and diluents are not in the list of petroleum products under the export fee.
As the website Charter97.org previously reported, a meeting on this issue was scheduled on July 17 between Russian and Belarusian vice-premiers Igor Shuvalov and Sergei Rumas. However, nothing is known about the results.
Besides, a question about participation of Russian business in privatization in Belarus can be raised during the negotiations".
This was told to the "Interfax" agency by one of the members of the Russian delegation.
According to his words, "Russian businessmen are expressing wishes about acceleration on privatization of certain Belarusian enterprises for quite long".
On his mind, representatives of Russian business "do not tend to one-sided advantages, while taking part in privatization of Belarusian enterprises". "This is no less, - continued he, - favorable for Belarusian State because it gives additional source of income to the budget".
Most likely, noted he, the members of the Russian delegation will ask Belarusian colleagues about "what additional steps from both sides should be taken to reinforce the trust to Russian companies".