Dashkevich has refused to speak with investigator
20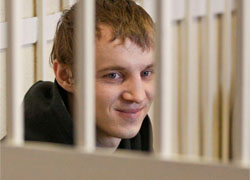 Zmitser Dashkevich refuses to give any evidence during the interrogation.
The lawyer has visited the political prisoner on his 31st birthday in Hlybokaye colony.
Zmitser was released from the punishment cell the day before yesterday and is celebrating his birthday in his group. The political prisoner's fiancée, Nasta Palazhanka, has informed Euroradio that Zmitser has received about 100 letters and 50 greeting cards. Moreover, Palazhanka's present should arrive today - an album of pictures "A Day without You" where Nasta describes her day without her beloved man in photos and drawings.
Nasta has informed that Zmitser has already been interrogated for the new criminal case. Dashkevich is facing one more year of imprisonment as "a repeated infringer". If it does not happen, Zmitser will be released on December 18.
Dashkevich has refused to give any evidence during the interrogation. Palazhanka quotes Zmitser's words: "I will be a viewer in this circus". Dashkevich has also refused from the lawyer's services.
Nasta Palazhanka and Zmitser Dashkevich have been unable to get married for over a year because Zmitser has not received his passport confiscated during the investigation of his criminal case.