Human rights activist protest against a fine for a photo in Gomel
6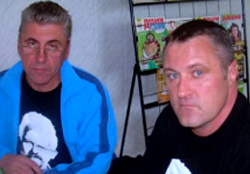 Leanid Sudalenka and Anatol Paplauny applied to police asking to hold them responsible for putting pictures on the internet.
In the pictures the human rights activists are expressing solidarity with their colleague, a political prisoner Ales Bialiatski and congratulated him on his anniversary, BelaPAN reports.
In this way they are turning public's attention to the administrative penalty imposed on human rights activists in Grodno – a large fine for pictures, posted on the Internet, and point at the inadequacy and the absurd character of the court's decision.
"We want you to pay attention that we committed a similar administrative violation at the place of our residence, when we posted picture on the internet, in which we are portrayed with the texts of solidarity and wishes on our colleague, political prisoner and human rights activist Ales Bialiatski's 50-anniversary (the picture from the web-site is attached). We are asking to start an administrative prosecution process against us because of the fact of the violation committed by us", - the human rights activists say in their appeal to police.
We would remind that on 5 January human rights activists from Grodno Viktar Sazonau, Raman Urgel and Uladzimir Khilmanovich were held responsible for a picture posted on the internet. In the picture they are holding the portrait of Ales Bialiatski and brochures of the Human Rights Declaration Police found the corpus delicti in these pictures and accused them of illegal picketing according to the article 23.34 of the Administrative Code.